I never thought crocheting would be this fun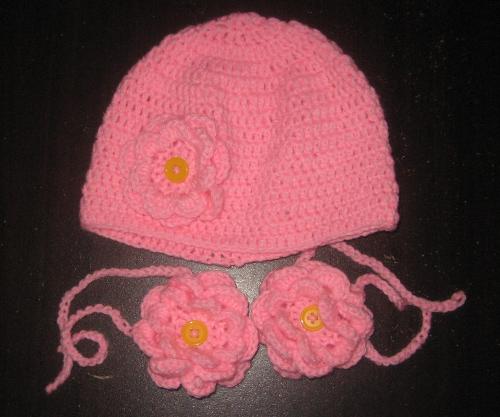 Philippines
September 23, 2012 7:32pm CST
I am into crocheting for more than a month now I think. I am afraid to do it because I find all the terms had to learn. But then my husband can do it so why can not I do it. Haha. So I bought my own hook and search the internet of patterns and techniques too. With the help and guidance of my husband I was able to make my own masterpiece. I am happy with it so I am more inspire to do more and better. I believe that practice makes perfect. I never thought crocheting is enjoyable. I could just do it over and over again if only I don't need to rest my husband or it will get sore after long hours of crocheting. I know I am no expert but I am proud to share this with you. Never afraid to take the risk, because only then you will know what will do to you. Happy mylotting. Wish me luck so I could have more and more orders to come. Thank you!
10 responses

• Mexico
24 Dec 12
Crocheting was my mothers favorite thing to do. She sit in her chair and do it for hours. She made sweaters, table mats, animals , dolls, even blankets. My mom has passed now. I still hav emany things she croched me here. Merry xmas. Thanks for the memories....


• United States
8 Nov 12
My Mother taught me how to knit when I was about 8 years old. Later on she taught me to crochet. Even though I enjoyed knitting, I loved crocheting. You can get so more done a lot quicker too. Since then I have done both and added needlepoint, cross stitch, counted cross stitch, candle wicking and French knot designs to my hobbies. I also do scrapbooking too and have so much fun with all of these crafts.


• Philippines
4 Oct 12
Hello Diana. I just did researches about crocheting and the terms. I am lucky my husband is so good in reading patterns so it is much easier for me. It is hard but when you are it you will be addicted especially when you see how your project turned out.

• United States
2 Oct 12
Wow... for a beginner these are nice. I am sure if you put your mind to it a lot of née ideas will come. Being able to crochet is an awesome thing and personally it it quite simple to learn.

• United States
25 Sep 12
Glad you like crocheting.I like to crochet and knit.Both self taught by books years ago.Be sure to check out youtube.They have videos to show you how to different stitches.Also check out Ravelry and New Stitch A Day.I get alot of patterns from Ravelry,Crochetpatterncentral and knittingpatterncentral.Lots of luck and enjoy.

• Philippines
26 Sep 12
Hi! I am enjoying it really, anything about crafts actually. It is just strange that I am Chemist, haha. I am also downloading youtube videos and they are really helpful. I just search free crochet patterns and look at the images. Anything that interest, I download. I am always happy if the pattern is free. Thank you so much for sharing.

• United States
24 Sep 12
I love to crochet also, but like you, have only started. I made a purse and now I'm making doll blankets. I also love to knit because it's relaxing. I don't even have to watch what I'm doing. I'm like a nana sitting in my rocker with my reading glasses on, rocking and knitting. Oh wait, I AM a nana!! ha ha! I had to learn by someone teaching me. I tried a book and internet, but it was hard for me to figure it out so I had someone show me how. Some things I can read and learn, but some things I have to watch to be able to learn. I've knitted blankets, scarves, doll blankets and doll house blankets and rugs.

• United States
24 Sep 12

You have to rest your '
husband
' or it will get sore after a few hours? I think you meant to say hand. I wish I was great at crocheting but I'll admit I am not master at it. I'd love to be able to do so as a side job and to have afghans etc lying around on furniture and the such. Good luck and continued success!

• United States
24 Sep 12
Your 'masterpiece' looks like some good work there. I've been crocheting since I was nine years old. I've got a closet full of projects that I've completed over the last three years. I really need to find some way to market them. Now that it's getting cooler, I suppose it's time to start up again. I haven't bought a pair of socks in years. I can make them in one sitting usually during an evening that there is something on tv that I want to see. I get a lot of my patterns online. Have you checked out Crochet Pattern Central. It has hundreds if not thousands of good patterns. I also get free patterns via email from Lion Brand Yarn regularly. You can become a member of their online site and save patterns to your own account, print out, etc.

• Philippines
24 Sep 12
Nice to know that it seems that you are enjoying this hobby. I remember my granny that used to crochet before.She used to make, sweater,blazer, skirts for kids, cellphone holder and place mates.She even made a table mattress for their dinning table.