mobile phone fear..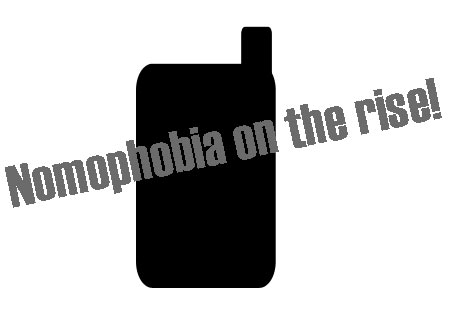 September 24, 2012 5:42am CST
This really shocked me when I read this this morning.. I don't even know how I stumbled across it! "'Nomophobia' - the fear of being without your mobile - affects 66 per cent of us" Source: http://www.dailymail.co.uk/sciencetech/article-2141169/The-biggest-phobia-world-Nomophobia--fear-mobile--affects-66-cent-us.html
9 responses

• Delhi, India
24 Sep 12
Many people are getting addicted to their mobiles because of so many facilities, which a mobile handset contains. It is like a mini potable computer, which could be carried anywhere, that is why people do not want to be without it.


• Delhi, India
25 Sep 12
It is good to hear that in case your do not have your mobile with you, you do not panic or feel nervous about not having a mobile.

•
26 Sep 12
no way i mean we have phone boxes that we can make a call from if we really need someone!

• Delhi, India
26 Sep 12
It is good to hear that you have alternative facilities for communication.

• Italy
24 Sep 12
Well, I did not know before now that there was this type of phobia (or paranoia) that affects 66% of the population, in fear of running out of the mobile phone. But at this point I question arises. My first phone I bought it in the year 1999. Before that, they were only "rare commodity a select few" or too expensive to be affordable for everyone. Life was more or less the same as now, we phoned through telephone boxes, these calls occurred even in conditions of extreme emergency. Yet we lived anyway? Ok, to the present day modern phones are practically computers to all intents and purposes, just as you mentioned, you've got your calendar, alarm clock, mobile Internet and many other functions. But from this to be taken by the phobia in being deprived of the mobile device, in my opinion is an exaggeration then!

•
24 Sep 12
I don;t quote believe it myself.. I mean I think it is a little over the top. To actuallyhave a phobia that affects 66% of the population I highly doubt. The people that enjoy their mobile phones the most would be young peopoe and I would assume that when they are asked if they could live without their phone their answer would be exaggerated because of their age, leading to such statistics!

• India
24 Sep 12
alberello I bought a mobile way back in 2004/5 and after that i would have changed 3 or four phones. But there are people changing to new technology - iphone -slide board etc depending on their needs and capacity.

• India
24 Sep 12
chickdigscars Oh No. We can live without anything except life. I use to keep two cell phones beside me while staying in chennai. I may get maximum five or six calls per day. but addiction was there. now here in canada i have switched it off and am without cell phone, without a watch but addicted to laptop. yes, going away from one will make us get attached to another,. I agree with what is stated in the article 50%.

•
24 Sep 12
So you find yourself addicted to different technology when you are without your phone?

• India
24 Sep 12
yes. man has to be doing something always -- sleeping, working, thinking, eating, playing etc. so going away from one will take us to another and it is a different technology--without technology means -- going to temple and spending time in yoga or meditation is the best option.

•
24 Sep 12
well i don't go to temple, as that is not my culture or religion, but i actually find myself at a loss with my time when technology is not involved, so i completely agree with you!

• Philippines
26 Sep 12
This is really insane! living without a cellphone? what the heck? why would someone be like this. I can live without it. i rarely hold it even. I only hold it if i have to go out in case of emergencies or for games....

Oh, well, there maybe people who are like that. just like the thought of facebook. what if facebook is gone? some people will be insane because of this...don't you think?


•
26 Sep 12
yes i completely agree, facebook is like a complete lifeline for some people. to be honest i think facebook is just a breeding ground for arguments lol!

• Philippines
27 Sep 12
i might say they are taking too much time facing facebook and they share and post whatever they are feeling, when in fact, it doesn't necessarily have to happen. They are just telling the whole world what kind of person they are. and i can say when it comes to online, we should not tell all our feelings cause it will cause more trouble and people will think you are a pathetic one trying to attract people and have sympathy on you...



• Australia
26 Sep 12
Wow sorry to say that just sounds really sad and pathetic to have a fear of not having your phone with you. Mind you I hardly use my phone for anything and couldn't care less if I left it at home


• United States
24 Sep 12
Ok, now I've heard everything... Of all the things to be afraid of, not having my cell phone with me would be the last thing that would be on my mind... Granted I'd be annoyed more than anything but that's about it... It's scary how dependent people are with their technologies...

•
26 Sep 12
isn't it just? it sort of makes you wonder what people did without these things? i mean i remember when mobiles weren't around, albeit barely because i'm only 25, but i do remember.

• Nairobi, Kenya
24 Sep 12
This Nomophobia isn't something I'm associated with. I'm sure I'm not among the 66% who are affected. I've lost several of my phones without necessarily going through the panic of what my life would be without them. I just know that they are essential for communication and that's all!

•
24 Sep 12
But it isn't even about loosing them. it's people who have a fear of being without their phones to the point where they won't leave the house without them etc!

• China
24 Sep 12
I think it's not a big deal whether with or without a mobile phone as long as I get uesed to it. Once I experienced going out without a moble phone and I felt uncomfortable or even lost at the very beginning, because I worried that I might miss some information or others could not contact me in an emergency. But several days later, I thought it's a good idea to go out or do some work without a phone, because I could had a relaxing time without being interrupted and I could do my stuff efficiently.

•
24 Sep 12
I feel the same, don't get me wrong I love my phone and i prefer to have it, but if I had to be without it for whatever reason I could manage fine!

• United States
24 Sep 12
That is interesting. I didn't know we already had a name for that. Like you, my mobile phone is something that I rarely leave behind when I am out and about. And even when I'm home, my mobile phone is always within my reach, if not already in my hand or pocket. But I don't think I have that fear whenever my phone is not with me. I would be very upset if I lost it or if it is stolen, like I would be if something of mine gets stolen. But that kind of fear? Nah. It's way too much. But to think that statistically speaking, it is a considerable number to consider those affected by it.

•
24 Sep 12
It is insane, but as i said above, the people asked could have exaggerated, for example those that are young and glued to their phones, could have said they couldn't live without their phone, thus exagerrating the statistics!