the hundred year old man who climbed out of the window and disappeared..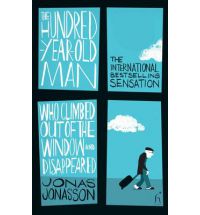 September 26, 2012 6:10am CST
People say don't judge a book by it's cover, but I think it has to be said, that we all do it. And obviously it doesn't just mean literally a book, it means people, and other things in life. But what about books? How do you judge them? by the cover? What's on the back? But what I find I do, is I judge an actual book by its name. For example, I was looking up the book charts last night, namely Waterstones book charts, and one book completely caught my attention. It caught my attention so much that I ended up buying it on iBooks on my iPhone haha! The book is called, "The Hundred Year Old Man, Who Climbed Out Of The Window And Disappeared." Lol with such a funny title I couldn't resist! How do you judge your books? Are you interested in strange titles? What do you think of this?
3 responses

• India
26 Sep 12
sometimes I judge the books by its title.lol and I think this one is really eye catching title and i would like to know what it inside the book. So what happened, did you what was inside the book, I mean the synopsis or something. Let me know. Thanks for sharing and have a wonderful day ahead


•
26 Sep 12
i went onto amazon and looked up the synopsis of the book and it is as follows: "It all starts on the one-hundredth birthday of Allan Karlsson. Sitting quietly in his room in an old people's home, he is waiting for the party he-never-wanted-anyway to begin. The mayor is going to be there. The press is going to be there. But, as it turns out, Allan is not...Slowly but surely Allan climbs out of his bedroom window, into the flowerbed (in his slippers) and makes his getaway. And so begins his picaresque and unlikely journey involving criminals, several murders, a suitcase full of cash, and incompetent police. As his escapades unfold, we learn something of Allan's earlier life in which - remarkably - he helped to make the atom bomb, became friends with American presidents, Russian tyrants, and Chinese leaders, and was a participant behind the scenes in many key events of the twentieth century." source: http://www.amazon.co.uk/Hundred-Year-Old-Man-Climbed-Window-Disappeared/dp/1843913720 hahaha it sounds hilarious doesn't it? apparently it is a real page turner and makes the reader laugh constantly! i cant wait to start reading it :)

• Germany
29 Sep 12
The title of a book is what calls my attention to have a look on it, my second step then is to check up the review of it on the backside. Depending of the summary, I decide if I buy it or not, but I also look at the author, cover, numbers of sides. The book you bought might be interesting (maybe you can share your opinion in the future, once you've read it?), but usually I don't like large titles.

• China
27 Sep 12
i agree with you,i often judge a book by it's cover,when it is charming,i will read it,on the contary ,i will not read it,i have never thought whether it was right,i think happy is the most important.good luck!