Using spring boots is not as easy as you'd think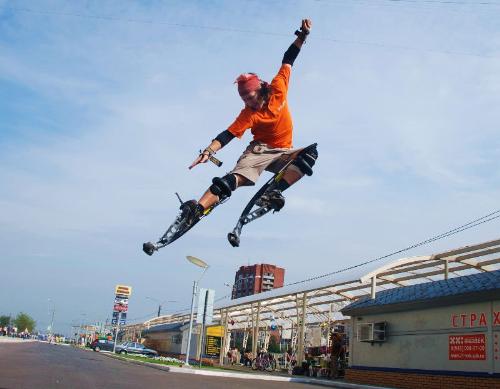 Czech Republic
October 8, 2012 6:32pm CST
Have you ever tried "Powerbocking", jumping and running on elastic springloaded stilts? I did and tho it looks really easy, it's pretty hard to master. When I was waiting in the line for renting the boots, I was entertained by the guys that couldn't stand on their own while wearing the boots or were insecurely bouncing on one place. Soon I became one of them. It was surprisingly hard to maintain balance with these things, they felt much heavier than I anticipated, takes some effort just to move a leg. It took me at least a minute or two just to try walking without holding someone's hand. The trick not to lose balance is you have to keep moving, walking or just bouncing on the spot. Soon I got the hang on it so I tried jumping. It was a little weird because it's not the same as normal jumping. You have to kick the ground to launch yourself in the air and the timing is very important because you have to hit the ground in the right moment as you fall. At first I thought it'll be impossible for me to run with it but after some time spent on it, I thought it's impossible to fall. Soon I learned otherwise cause I just had to try some crazy stuff, fell hard and cut my hands cause I didn't wear any protection. Big mistake, definitely wear it if you're gonna do it for the first time. Actually experiencing falling is a very good thing because you'll see how it is and it'll remove some mental blocks. Anyway, after jumping for about an hour I was totally soaked in sweat because it's very energy consuming. You can't afford to stop and it takes energy to move because the boots are heavy so it's a great exercise. There were experienced guys who were jumping over parked cars, doing flips and stuff but I was just happy jumping around randomly. In one hour I kinda mastered basic running and jumping so I'm looking forward to putting them on again and actually trying some tricks. But even if you want to use it just for jogging or walking around the park, it's a great exercise. Definitely recommend it for everyone to try.
1 response

• India
9 Oct 12
thanks for sharing this discussion. yes u are very much correct, things that are shown on screen look easy but they are very much difficult and tough if realized in person as they are mostly shown to entertain people and are done under strict supervision and guidance. It is never easy to use spring boots like the one shown on TV screens as they might be dangerous if we try them without any experience or guide. What say?

• Czech Republic
9 Oct 12
Yeah, the look of these boots just looked easy to handle to me. Even when I saw people in person having trouble on them, I wondered what's the deal with it. How hard can it be? The thing is it feels very unnatural and you need to learn to walk in whole different way. Fortunately there were some instructors around, even tho there were only a few so they can only show it for a few minutes before they get to the other person. I definitely don't recommend buying these without trying them first. Can't imagine putting them on and trying to figure them out on my own without any help or at least get a friend who would hold you if you lose control.