Conscience over Money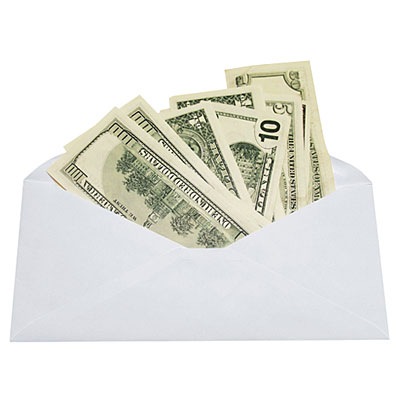 Philippines
October 12, 2012 5:33am CST
What if, you are on the sidewalk going to work. Then you step into a white envelope with money inside. There is no any indication of the ownership, are you going to keep it? If you are going to return the money, to whom? What will your conscience dictate on this kind of scenario?
9 responses

• Philippines
12 Oct 12
it is actually hard to decide what to do in this case. but the best thing i guess is to approach a media outlet which can broadcast the information that you found an envelope containing some cash (do not divulge the exact amount), and then anyone can claim it from you or the media outlet. keep the envelope and be updated from the media if there is anyone who wants to claim the envelope. if none, you can donate it to charity.

• Philippines
12 Oct 12
i agree with you mensab. without disclosing the complete information, media could quickly disseminate the information and possibly locate the owner faster. and by entrusting this to the media you are more assured that the money will go to the rightful owner.

•
12 Oct 12
Had I ever come across such a situation I would hand the envelop over to the person if found. Otherwise, I would keep the money and write a letter in the letter column section of a popular newspaper. If none claimed the money within a month I would have donated the money for a good cause.

• India
12 Oct 12
it already happened, with me when i was in school, i found an envelope with money, but i didn't take it, i handed it over to a police man who was near by, fortunately the policeman was nice , and we know him , so the people who lost their money gave a complaint about the same, after all sorts of tests and investigation , it was handed over to the person.

• Denmark
12 Oct 12
As far as I know the rules in my country say that you can keep the money that you find if it is less 50 kr (about $5) and if it is more than $5 the money belongs to the state if it is impossible to find the owner. I think that the correct thing to do (in my country) would be to hand the money over to the authorities and let them deal with it. They could try to find the owner for instance by hiding the amount of money and the place where the money was found and see if anyone would be able to answer the questions and prove (s)he was the owner, but I think that the state would probably just keep the money if there was no name or address on the envelope.

• Pune, India
12 Oct 12
Hi, If I get the envelop with money inside I would like to return it to the owner of that envelop. But if there is no address or name written on that envelop what can we do? How can we return it to the person? Our conscience doesn't allow us to take the belongings of others.

• Ireland
12 Oct 12
I'd always hand over the money. While it would be nice to have the bonus cash on hand, I'd be worried about who it belonged to and I'd feel really bad just in case somebody who really needed it had lost it. This actually happened to a friend of mine. A lot of police departments will take in the money, and if nobody comes to claim it within a certain period of time, it belongs to you. I figure if they don't come to claim it, I'm not taking money they might desperately need since they didn't deem it worth looking for.

• Philippines
13 Oct 12
If someone who is in this situation would really return the money, well.. Never give it to the authority (Police) LOL! We don't trust them much here in the Philippines. At the moment, their credibility is shaky. Though not all of them do it, but no one can prove who and who doesn't. So the best thing, report to media- and don't even tell the amount.. Instead let the "owner" give details about it. Like how much is the amount, envelope color, size, places he/she went before losing the money etc. If we have the intention to help, of course we wish to help the right person. :D I have never experienced seeing something valuable as this big amount of money, but coins yeah and I honestly kept them for myself. Sidewalk is like being passed by a hundred of people in an hour. But if this kind of scenario really happens to me, then hope I'd be convicted with the right actions :)

• India
13 Oct 12
i have the conscience always and in my mind i always use that things,but beyond a limit money hurts for sure

• Philippines
13 Oct 12
Sad to say, I lost my wallet a couple of times in the past and no one dare to return it to me. In there is my money, my driver's license and my atm card. So if those who found my wallet have intention to return it they have no problem because they have my license with my name and address but sad to say, negative. But given the scenario you gave, even if it has no name I will try to locate the owner the best I can. If ever I fail, the best option I can think off is to donate the said amount to a charitable institution.