WOW! NUMBER 1! again :D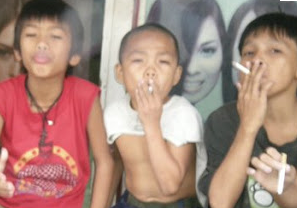 Philippines
October 21, 2012 2:12am CST
Hello Lotters, I would like to let you know that we are NUMBER ONE...AGAIN! Very very TOP number 1 as a SMOKING COUNTRY!

It's really hard to believed that after the rise of these sin tax we still to have more and more smokers by the year. In my experience i usually get to see working people smoke because of the stress, even for some jeepney drivers. But what annoys me is that even young chilren or young teenagers started smoking. some i think do it because they want IN or be part of the group or a society. they will die early before they even reach 50 to 60 yrs. since smoke is cheap they can buy it and they can even ask oldies friends to buy it for them. another effect of poverty in the country.

What do you think?
4 responses

• Somalia
21 Oct 12
I think that rise is probably caused by more and more streesful jobs that most filipinos are accepting like the call center jobs. Almost all people I have worked with when I was still back there are smokers. And most of those who are not smokers when they start the job start smoking after a few months. One reason is socializing with co-workers and venting out frustrations and such. The younger ones are most probably influenced with what they see on the media. The irony is that just as more and more people outside the Philippines are quitting, the reverse is happening in our country. It's a sad affair indeed.

• Philippines
21 Oct 12
Hello amoyube1980, yes the stressful job it is the more people are prone to smoking. most specially if you have started it as a teen, then you experience this stress during work. they will quit when their sick and dying. and that's a bad thought for every one. i hope things would do better in the future.




• Philippines
21 Oct 12
Wow...again lols. I just can't believe that a poor country like ours become number when it comes to burning money and their lungs.


• Philippines
21 Oct 12
Hello Jaihosis- they are wasting both money and their health i can't begin to imagine them dying in their beds. even if your rich you will spent countless money in terms of operations and therapies and medications. so much for not enjoying the luxuries of being rich though




• Mexico
26 Oct 12
Hi Letran Knight: That's really sad for your country. I know this doesn't help at all but at least I can tell you that it's very similar in my country. I've seen how people start smoking at a young age because they think that makes them independent or that makes them look cool. I can't believe how people care so little for their own health. ALVARO

• Malaysia
22 Oct 12
Letran, pity to hear nowadays many young people choose to ignore the danger of smoking to their health. They prefer the glamor lifestyle of those who smoke. What a pity to see that they prefer this dangerous path of life since from a very young age. Don't there is any better solution for the local authority to educate them to enjoy a much better life. It is really a pity scene to see younger generation to waste their precious life that way.