"Do I get a discount?"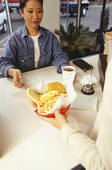 Philippines
October 21, 2012 10:21am CST
This is what I have said earlier to a guy whom I bought food (fried chicken) with. Well, it was a store nearby our place and I asked him to chop the chicken and suddenly some parts have fallen, and he sneek to see if I saw it happened. I know he felt ashamed on that, and he reheated the part that had fallen. I didn't say anything until he is done packing all the parts. "Do I get discount for this?" He smiled a little and I know he knows what I saw that's why I said that. He replied no after that "ngisi" thing... Then I said "Ayusin mo ha!" in an irate and mild way. I can't find the english translation for this, maybe the closest meaning is to straighten up, or straighten your things out. I am not sure if he heard it anyway, I just can't help myself saying such things, which I find funny on my way home...

What about you guys, have you ever confronted or argued to someone because of not being satisfied with the service they provided? or anything at all? Love to hear your experience...

5 responses

• Philippines
23 Oct 12
And he didn't give you a discount?

Well, i think if he did, it will be deducted from his salary, because after all he's just the salesman not the owner. Me, i am one of those people that would always say what i have observed to be not right. Like when i bought 12 pieces of Simvastatin tablets. I paid for it and got the wrapped Simvastatin. But i opened it to check and saw that it was only for 10 pieces. Thus, i accosted the sales lady, and they looked for the 2 pieces which was left on the counter and gave it to me. Now, they would always give the customers what they bought in an open wrapper, for them to check. I am glad, i did that.


• United States
22 Oct 12
I would never pay for food that has fallen to the floor. Goodness knows what nastiness is there and even if re-heated, it's still the freaking floor. I would either not take it at all or ask him to get me a new one. If he wopuldn't do it, well he can have the chicken. I am not paying for it.

• United States
21 Oct 12
I would never pay for food that has been dropped on the floor! In fact my family and I went out to some fast food to eat and the person wasn't wearing gloves when handling our food. I said let's get out if here. I'm not going to pay for and eat food that has been handled by someone who isn't wearing gloves. I saw her touch her face and hair. For all I know she used the toilet sometime too. What if she didn't wash properly? I'm not going to eat out when people I don't know are handling food without being gloved.

• United States
21 Oct 12
I hope you did not mean some fell on the floor and he reheated them. golly no that never happened to me and it never would. I know twice I hat to tell people to change the gloves they were using to prepare my food. once this lady put on a clean glove then she came from behind the counter and pushed the shopping cart out of her way then I simply said you know you need to change that glove now right. she was very polite and we went past it. at mc donalds a womand was searching all in the cabinets for something then she went to make my food and I said you know you have to change that glove right. she went as far as calling the manager and you bet he made her change that glove and she was so pissed. the nasty slob would have been punched had she left the store when I was leaving.