Coupon deals help to save money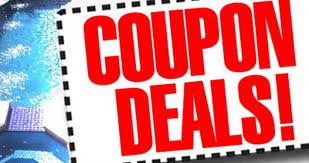 Malaysia
October 23, 2012 3:22am CST
So far i have not seen anyone discussion on coupon deals available on websites. Out of curiosity, do you know that lately there are more and more coupon deal sites on web? Well, to name a few popular ones are like Everyday (which was recently bought over and known as "Living Social"), Groupon, Dealmates, MyDeal, iLoveDiscounts, StreetDeal, and others. They provide promotion deals on beauty and health, gadgets, travelling, car care, education, home appliances, food and restaurants, fashion and many more. I love to visit these websites to find for good deals on food! Some really good reputable restaurants do advertise good promotion deals to the users. That is the time i would grab the opportunity to enjoy some good deals. Nowadays, many things are sold at higher price, every business people are looking for higher margin. Inflation are getting higher, but pay wise is not growing much. So, how can we survive in this fast growing expenses country? Coupon deals are one of the best option. However, please take note that not all deals are as good as being describe. So, we need to choose wisely and first do some research before buying. Some deals are worth, some are not. By purchasing coupon deals do help to save money, and simultaneously able to enjoy them at a lower price. What do you say, myLotters? Share your thoughts. =)
6 responses

• Philippines
23 Oct 12
Some of the products on deals are great but here in my country, most below $100 products are cheap chinese knock-off products that they label as genuine.

• Malaysia
23 Oct 12
Oh I see. Is the product made in China or you are referring to Chinese product? Things from China is slightly cheaper due to cheap labor. But nowadays things from China is getting expensive already. I too, did buy online gadgets from China. However, the quality is surely not as good as the original or genuine ones. They only produce similar appearance but quality wise is not the same.

• Philippines
23 Oct 12
I know dealers of Chinese products and what I mean is Chinese knock-offs passed as genuine in one of those deal sites. I know what you mean about those chinese products, but those chinese products are not passed off as genuine. Let's say a Fila bag, most chinese bags will copy the design but label it as FIDA or something and make a distinction that it is a different product. Like on the chinese gadget you bought, they will label it as a chinese product and not an Iphone. What people in those deal sites are doing is selling fake products made to resemble original/genuine products in every way and form and pass it off as originals. Normal consumers will not know the difference and they will be encouraged to buy those products because it is less than 75% Off the original. I am not really against chinese products and I like chinese products because they are cheap enough that even if they break, you will not be disappointed by it. What I don't like is that they copy the original even the brand name and everything then pass it off as an original.

• Malaysia
24 Oct 12
Yep, i understand what you mean now. Misunderstand your sentence on the knock-offs, but now i get it already. I went to China early this year, and visited a place called "Silk Street". Here they sell all "branded" things, but fake branded. For example, a normal person would not realize the difference between genuine Polo shirt, and a fake one. One of the difference is, every genuine branded shirt has its brand name printed on every buttons. However, this shirt's button brand name printed was not Polo, but Poio. But the collar of the shirt has Polo's tag on it. So, normally people would surely not notice this unless they are a branded consumer or buy branded things often.

• Boise, Idaho
23 Oct 12
You definitely need to do your research. Is there any message boards you could find that would tell you something? Finding good deals could take awhile to search out. There is a show on cable about super couponers. It is a smart idea to check these things out and see how much you can save.


• Boise, Idaho
25 Oct 12
I don't do any of that so I don't understand it at all.

• United States
25 Oct 12
I think that coupons are great for buying groceries but I think a coupon for a restaurant screams "We Need Customers!" I would rather eat at a place that has specials because I know the establishment brings people in because of the food, not just the profit. I've used coupon's before but I don't think it mattered to the business because they closed soon after.

• Malaysia
26 Oct 12
I do agree that coupon for a restaurant screams "We Need Customers!". However, i do not select those screaming for this. I select restaurants which are established and special. In my country, there are times when these good restaurant gives promotions for their customers. And the food quality is good, thus you do not have to spend additional based on their regular price, but at a discounted price. This type of promotion is not screaming for the need of having more customers, as their restaurants are always filled with customers. Well, in my country, purchasing groceries through coupons or online is still not very popular.

• Philippines
23 Oct 12
hi joy, I had a bad experience to one of the known shopping online here and I learned not to trust them but I still do shopping to those who has a good services. happy mylotting


• Malaysia
24 Oct 12
Hi bhabycatch, sorry to hear that. But still appreciate your response here. Yup, not all online sites are trusted. However, the websites i stated in my discussion like "Living Social" and "Groupon" are trusted sites to purchase online. Just that we need to research whether is it worth the price with the goods. Hope you will find a good trusted sites soon in your country. Same to you too, happy mylotting! =)

• Mexico
23 Oct 12
We dont have many coupons herein Mexico. SOme store do some, but not like say in the usa. I know from my time living in las vegas coupons are a big way of shopping life there. You can even copy them off your computers. SOme store even give you double or triple their value on certain days.

• Malaysia
23 Oct 12
Oh really? Yes, in the USA there are a lot of coupon deals everywhere. Famous coupon deals in United States are Living Social and Groupon. Both are trusted sites with good reputation. It is really enjoyable to be able to purchase deals at a cheaper price. Actually to be honest, it is not really cheap either. But due to inflation rate, expenses are getting heavier. Otherwise prices charge would be those like the promotion deals.

• India
23 Oct 12
Here in India also, we see many Online sites which give out coupons like Purple.com, Pepperfry, Zovi, Tradus etc. Then, we have online stores like Flipkart, Myntra, and home shopping like StarCj.com, Homeshop18.com which also provide many offers though they are not exclusive coupon store. One site specializing in dealing with other offline and Online vendors is Payback. "PAYBACK is India's first and largest multi-partner loyalty program. The power of PAYBACK stems from pooling loyalty benefits from many attractive partners, using one card. Members can earn PAYBACK points when they shop across categories and brands - online and offline. PAYBACK India has more than 30 retail and 20 online partners including Big Bazaar, ICICI Bank, HPCL, Central, Ezone, HomeTown, Futurebazaar.com, Letsbuy.com and MakeMytrip.com." (from https://www.miles-and-more.com/online/portal/mam/in/program/partner/detail?nodeid=1322969741&l=en&cid=1000267) I also read that Payback is owned by German Retail Co. Metro AG.

• Malaysia
23 Oct 12
Yup, every country has its different types of deals. Your country deals seems interesting. Thanks for the sharing, I will check it out if it can be useful for my family too. Hehe.. Having payback point through spending is another form of saving. Glad to be exposed of something new from India. Thanks a lot for your sharing.