Question...should we take lessons from animals and nature?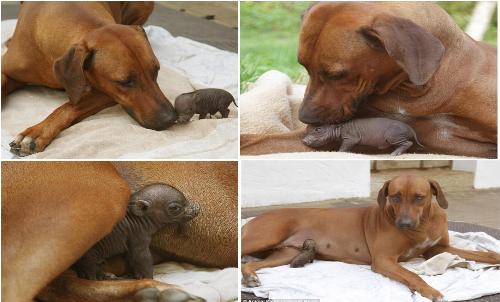 United States
October 24, 2012 12:33pm CST
I thought this was so interesting. This dog adopted this little piglet and is treating it as her own baby. I don't know, it just shows true compassion and love. No race issues, no conditions, nothing but 'here, let me step in and love you'. What do you think about taking lessons from the creatures in nature? Could we use it?
1 response

• India
24 Oct 12
Thanks a ton for sharing this discussion. Well i felt so good after hearing the love between that dog and the piglet and that speaks that love has no boundaries in the animal world. I have also previously heard how a dog had given her own milk to four kittens who were left abandoned by their mother and i think there are many such numerous examples to site and i think there indeed is a lot of things to love from them. What say?

• United States
25 Oct 12
I agree subhojit10, we can learn alot from them. The biggest thing is that unconditional love. It knows no boundaries. Nothing stops it. I am amazed by this and wonder why we, the human race, can't take that example and run with it. We are supposed to be the superior race but doesn't it make you wonder? What say you?