He asked me baked apple cinnamon muffin...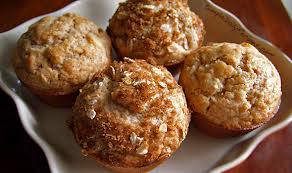 Philippines
October 24, 2012 4:31pm CST
My husband arrived home an hour ago, while eating my freshly baked wheat bread he asked me if i can bake apple cinnamon muffin. I told him i will try to bake this coming weekend. But to be I never try bake apple cinnamon muffin but i knew someone whose very good in baking this kind of muffin. I already sent message to her a while ago and hoping she can drop by here by Saturday morning to guide me in how to bake apple cinnamon muffin but to be sure I am not searching for a good recipes online. Have a great morning!
6 responses

• United States
25 Oct 12
I also have not done this but im thinking it cant be that hard. If you can make an apple pie and then make some type of dough form of a muffin and add in some sugar, cinnamon and some finely chopped apples i dont see that being to hard to make and then sprinkle the sugar and cinnamon on top of the muffins when done. I make a friendship bread every year and i usually always have enough of the dough to make muffins and its a great dessert for everyone when done eating hoilday dinners and its a great snack as well.

• Philippines
26 Oct 12
Thanks for the nice suggestions, i think i am going to make apple pie too and my husband would love it.

• Malaysia
29 Oct 12
Bhebe, how is your baking of apple cinnamon muffin, are they going fine? Hmmm, sounds very delicious.

How i wish to be able to taste your baking in future as well. At this moment, it is just a dream...

By the way, have you manage to prepare that muffin which your hubby request?

Luckily my hubby is not like that or least i would be same like you, need to search for the recipe right away.

• Philippines
1 Nov 12
Hi myfb, my apple cinnamon muffins turn so great with the help of my friend whose expert in baking muffins. My husband, parents and relatives of my husband like it so much. I thought i hard to bake muffins but with proper guidelines and preparations everything was done so fast and easily. Next time i can make my own apple cinnamon muffins alone.

• United States
25 Oct 12
Your husband is spoiled!

he's lucky to have you. I have tried my hand in baking, so far I have managed to bake brownies and banana bread decently. My husband also likes muffins, but it is still too complicated for me. Hopefully I can also find someone who is willing to teach me first hand and show me the actual step by step procedures.

• Philippines
25 Oct 12
Hi Raine, as much as possible i do my best to give what my husband want because he deserved it. He's very kind, loving and hardworking. Muffins served as his prize for being a good provider, lover and for fulfilling what promised to me. I am glad that my friend who is a pastry chef is living near to our place is available this coming Saturday and willing to help me out.


• Philippines
24 Oct 12
Wow! You already tried to baked them, I envy you. I am hoping they will turn out good because he really want to eat apple cinnamon muffins, now i am still waiting for friend reply, hope she can help me out this coming weekends.

• Legaspi, Philippines
24 Oct 12
Hi bhebelen! I'm sure your husband will be very happy if you can be able to do his request. I also want to learn how to bake. But maybe before I do that, I have to buy my own oven first. Good luck and have a nice day!

• Philippines
24 Oct 12
When i told him that i will try to bake this coming weekend he's very excited and kept on smiling. I am hoping i can make a very delicious muffin for him. You know what my new electric oven is very cheap i bought it last Saturday and it's sale, so far it's working properly and looks durable too.

• Chile
24 Oct 12
It is better to have someone help you (a real lesson) that to have a recipe online however good. I hope your muffins (or should I say your friend`s) turn out fine. Just the name makes them so yummy!!! Happy posting.


• Philippines
24 Oct 12
I am still waiting for her reply, i think she is still sleeping because it's only 6:00 am here. She is the one who always helping and teaching me how to bake different cakes and breads. Last time i ate her apple cinnamon muffins it was very delicious and can not for get the taste like.