Swagbucks Collector's Bill

India
October 25, 2012 6:33am CST
I just won a limited edition Halloween special collector's bill from Swagbucks. It's called Scareveys and is worth 14 SB. 4 more Halloween special remain to be collected. The offer starts today and will remain up till 31st October. So try searching more and collect all. Did you win any yet?
6 responses

• United States
25 Oct 12
I won a 7 and a 9! :) Won both of those yesterday. Ha. Nice to know what others are out there. Now I know I can be on the lookout for a 14 SB one.

• India
25 Oct 12
Great to here about it. Can you let me know the names of the 7 SB & 9 SB bills?


•
25 Oct 12
I cant remember but I searched with "earn" or " money" got 7 SB yesterday. Try it out. It may work. I cant guarantee :)

• India
25 Oct 12
Chaitu, no man it doesn't works like that. The winnings from searches are totally random. Its not about searching for a specific keyword. You use it like you use a normal search engine and if you're lucky you win SBs.




• India
25 Oct 12
Ah yes. That's fact. Its still under beta mode in India.



•
25 Oct 12
Hey thank yu very much buddy. I just searched with scareveys and got 14 SB. Yet to search for rest. Any suggestions ? I'v joined Swagbucks yesterday and still confused how it works :(

• India
25 Oct 12
I joined yesterday too. Its not that you won SB because you entered and searched the word
scareveys
. You were suppose to win that time. Thus, you won irrespective of what you searched for. If you want to know the names of the other Halloween collector's bill, then go to this link: http://www.swagbucks.com/account/summary (not a referral link) and select the Collector's Bills tab at the horizontal end, on the right side.
Good day!


•
26 Oct 12
Hey buddy...are you able to earn SB by watching videos ? Seems it is not working yet right ?

• India
26 Oct 12
I've been watching a couple of videos too but somehow the bar in the right-top is not increasing. But have heard that many are earning SB from videos. By the way, I earned a total of 3 collector's bills. How many did you earn?



• India
26 Oct 12
Hi friend, I won two of them. One is creepons with 10 points, it is my today's surprise and yesterday i won bloggy man with 7 points. Hope i will win another 3 in the upcoming days. I think there is a some special points for the person whoever collected all the 5. Let's try our maximum to collect all.

• India
26 Oct 12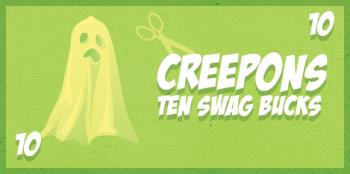 I've won a total of 4 times. But I won Creepons twice. So individually speaking so far I've got:- 1. Scareveys worth 14 SB 2. Creepons worth 10 SB 3. Bloggyman worth 7 SB I want to win the Ghoulbar next time. It looks great!


• India
26 Oct 12
Good to hear about this.. you are so lucky. How many SG points you have in your account? can we have the ability to get more than one rewards per day? wish you to get your favorite point in the near soon

• India
26 Oct 12
Yes. Since its random you can get several SB in a day. I got a Creepons in the morning and another just 30 mins ago. SO that means now I've won Creepons thrice. The first one I got yesterday. My total SB is 160 and didn't even play a simgle game today. If I did that, maybe I'd have won some more.
Good luck!


• Legaspi, Philippines
25 Oct 12
Hi friend! I am glad to know that you are having success on this site. I hope I could also have time to visit the site some day. I read positive things about this site but it is just that I don't have enough time at the moment due to my offline activities. Have a nice day!

•
25 Oct 12
You are welcome Aries but this site is live in Philippines ? It just started in India yesterday.

• United States
25 Oct 12
Hi MIMO,Yes I did see that and yes I did win twice yesterday.

It started yesterday.

• India
25 Oct 12
I won two too. The Scareveys worth 14 SB & Creepons worth 10 SB. Which collector's bills did you win?