Early Voting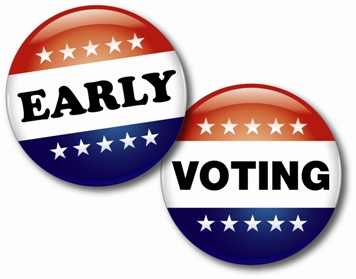 United States
November 1, 2012 11:11pm CST
Without revealing your vote, have you voted yet? How do you feel about your vote? To answer my own question, I have not voted yet. I am going next week to vote. I am a little concerned that some "unforseen error" will occur and those early votes will not count. Imagine that. So I am waiting to see if all the bugs are worked out.
4 responses

• United States
3 Nov 12
I am going to vote in person on Tuesday. I am leaving work early. And I get a sticker to wear.

• United States
5 Nov 12
Me too. One more day. I think I might get a "I voted" sticker!

• United States
2 Nov 12
I'm waiting until Tuesday so I can sway the masses with my "Vote for Pedro" t-shirt.

• United States
2 Nov 12
I have already voted on Tuesday Oct. 23 which was the third day of early voting in my state. There seem to be no bugs that are likely to be caught by waiting. My problem was that it was so easy to vote with no real verification that someone was a citizen or even who they said they were. Just give your name and date of birth and verify the address they had on record and the ballot was printed and off you went to the voting booth. Living in a state where non-citizens can get driver's licenses which has been a problem with all kinds of non-citizens being brought in by some people for a price and given an address and getting a license; there was one case were someone was caught doing this only because an employee at the DMV realized that this person had brought a bunch of people in many times before and he finally realized what he was doing. It is highly likely that the same thing has been going on with voter registration here and that there are many on the voter rolls who are either not citizens or who have multiple registrations and are voting many times. There used to be an organization that was very active here that was doing just that, registering non-citizens or multiple registrations. They got caught elsewhere for doing that and other things and the organization has since disappeared. I was in line to early vote in the last presidential election and there was this loud talking guy and the subject of this organization came up and he was such a strong supporter of it that I think he must have been part of it. I am also convinced that he was shepherding a non-citizen through voting at that time. So it is other things that one has to really be worried about and bugs in the mechanics of the voting.

• Philippines
2 Nov 12
i think things will be alright. the vote of americans will reflect the direction the country will take in the next six years. the close lead and highly competitive election shows how voters are divided along issues. incumbent obama is trying to shore up support by demonstrating that the country has taken over the hump of the financial crisis. but republicans are trumpeting on the dire situations of the people.