Do you have such habit draw Rangoli with good designs?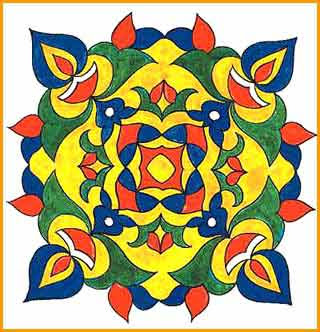 India
November 12, 2012 11:57pm CST
Everyone know now life is very busy and nobody has time to do the extra work. But still in some places like in India most of the people like to draw the Rangoli on occasion specially on Diwali Festival. This is a big festival of India. I try to draw but no properly because my drawing is not good. But yesterday my friend told me check the designs on net and I checked really nice designs in google search. I think if drawing is good means we can draw good rangoli what you think do you feel happy while draw rangoli or feel bore because more time is going in such act. I spend full 2 hours today morning for draw the Rangoli and fill the color.
4 responses


• India
15 Nov 12
You are right sir drawing skill is special skill and everyone have not this skill. I have no such skill.

• India
13 Nov 12
Happy Diwali to all. :) i do love rangolis but never drew them. When i was a kid, i used to draw some cartoon characters in rangoli and my sister used to color them.

• India
13 Nov 12
I also love Rangoli but not draw very well but now check on internet and do the practice for draw. Hahah...I remind my childhood days my brother also fill the color while I draw the rangoli and some time falls the color and I beat him.

• India
13 Nov 12
That's a good idea to use internet for design purposes. You can start your own blog too. I guess most of indian brothers and sisters are like this only.

• India
13 Nov 12
Yes i and daughter in law drew 5 big ones on our lawn, filled with ecofriendly colors, all home made like fine rice flour, fine black powder made from burnt coconut shell, turmeric powder and fine sand from river 'Ganga' It took 3 hours, we did till 11pm last night. 'HAPPY DIWALI' Happy posting, cheers. Kalyani

• India
13 Nov 12
Ohhh you fill you also made Rangoli really house looks nice when draw the rangoli. Aunty I since yesterday I am crying because last night my monthly problem is came and I was excited for this festival but now cant do anything. Even my period was next week but came before one week. My MIL is alone for doing work today because in our home not allowed anywhere after coming the period.

• India
13 Nov 12
Sorry to know, we don't have control over it, many women use pills to shift it; but certainly not good. The dog sat on rangoli you made? You have to make another.

• India
15 Nov 12
We have to go by our tradition and rituals, my wife, bahu made rangolis; seeing them Subhee, my grand daugher made 3

Today is Bhaiduz, my didi has invited all of us, my bahu's brothers have come from Bilaspur


• India
15 Nov 12
Yes today is Bhaiduz and my nand put the tilak on me and my danger and sweet hubby's head. This year I not go in my brother's house. Because my MIL not feeling well. Hmmm means draw big Rangoli because everybody involved there.