English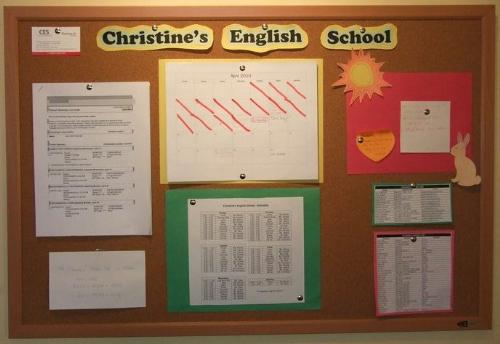 Guam
November 23, 2012 9:56pm CST
English is pretty much the universal language in the world today. Do you think non-English speakers or foreigners should be required to learn the English language? If you are interested to learn or just connect with an English institute based on Guam, search Christine's English School on Facebook and feel free to like or share the page. There, you can find pictures of some of our students and tutors as well as special occasions that we celebrate together. Do you have any recommendations for the best way to learn a language foreign to yourself?
5 responses

• Pune, India
26 Nov 12
Hi, You are right. English is the universal or international language. We should lknow the the words which are necessary for the conversation. We can improve English by reading books, news papers or watching English programs or watching news channels.

• Guam
27 Nov 12
Thanks for your response. Yup, English is a definite must in the world these days. And those are all very good suggestions to effectively learning the English language. I usually encourage the students in the institute I manage to pick up on those habits both inside and outside of the classroom. Using different mediums to learn keeps them entertained and encourages them to have fun with English.

• Guangzhou, China
19 Dec 12
English is indeed a global language today. If you know English, at least you can communicate with others easily. This is why many countries are required to learn English as the foreign language. Here it is the same. It is even taught English since the children in the kindergarten. And you have to learn it until university. So you can see how important English is. And today it is easy to learn English because you can take good advantage of the internet. You can have foreign friends who you can speak with. Everything is much more convenient.

• Guam
23 Dec 12
Thanks for your response. Yup, English is universal, which makes it easier for anyone to travel and be able to communicate with one another. Almost every country's tourist hosts have some basic English skills to accommodate tourists. It is good that it is taught and learned at a young age when our brains are just developing, and it's much quicker to pick up on certain information, especially a language. But the thing is that it needs to be constantly practiced to ensure that it is not forgotten. That is a good way to practice, as you have mentioned, to have foreign friends who speak English.

• China
19 Dec 12
English is a global language. More and more people are learning English. In our country, children start to learn English at a very young age, mostly from their second year in the primary school. But not all of them can learn it well. Some find it difficult to learn well and always get low grades in English examinations, which affects them a lot in their interest in the study of the language. I like English a lot and think it is a very beautiful and useful language. Thanks for the discussion and have a good day.

• Guam
19 Dec 12
Thanks for your response. I agree. It's definitely a global language. That's why the other countries are placing it into their school curriculum. Although the kids may have a hard time, I'm sure they'll learn to get a hang of it eventually. It will be an asset for them later in their lives. I think learning any language is an asset, but of all the languages, English is the most useful because everyone knows at least a little bit of it. And foreign countries are encouraging their people to learn it as well for business and tourism.

• Philippines
10 Dec 12
hi, yes,that is true that English is the universal language in the world,and of course that foreigners should also know how to speak this English language,and for me to learn easily i think its more effective if we will talk or chat to an English speaking person.

• Guam
10 Dec 12
Thanks for your response. Yup, I agree that foreigners should learn English. English is definitely a universal language. English institutes are a growing industry in education these days. There is a high demand for native English speakers to teach foreigners to become fluent in the language. As in learning any language or any other skill, practice is a must. Without practice, you'll easily forget what you've learned. I encourage you to to continue with your mindset, and learn easily and effectively by surrounding yourself with English speakers. Even if you are not sure if you're speaking correctly, you learn by making mistakes and being corrected. =)

• Philippines
10 Dec 12
hi, for me i think non English Foreigners should also know how to speak English language because they need it when they will travel,and we all know that English is the universal language,actually in my university where i studied,there were many Koreans who studied for this language.

• Guam
10 Dec 12
As a matter of fact, Koreans are our main customer base at the institute I manage. Hehe. It's quite an experience to see/hear their inability to read/write/speak when they first arrive, and then very rewarding to personally see/hear the difference in their fluency and confidence with their newly acquired English skills.