Hair pins do you like them?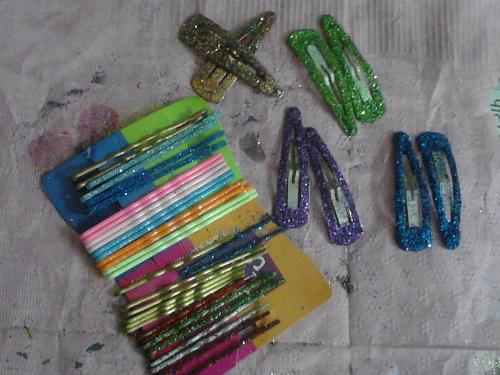 India
November 27, 2012 11:37am CST
I have painted my old hair pins & put some glitter on the black boring hair pins. Isn't its a good idea to paint them and reuse the old hair clips instead of throwing them in waste.
8 responses

• India
27 Nov 12
wow really good idea. I like them sometimes. when my hair is unmanageable. yes of course reusing them with new look is a good one instead of throwing them.

• China
27 Nov 12
it is so good for you to painted your old hair pins. You must spend plenty of time on it. I am sure if you throw them away, you will be regret one day because you cannot buy the similar one.

• Philippines
29 Nov 12
That is one great way of putting life into something ordinary. I have also done something similar, although it was on a pair of a thong slipper. The strap was actually in silver braided leather. And so I though of buying some beads and sew them on them. It looked more interesting!!


• Hungary
28 Nov 12
I actually don't really like really bold or colorful hairties and hair pins in my hair... I usually opt for neutral colors, rarely some muted colors (like muted corals, peach etc.). But this painting idea is really good... I actually painted a hair clip last week, as I found a clip laying around in the street... it was a plain garish metal one... so I painted it vanilla-ish colors and added some flaky topcoat. It looks really pretty and glimmering, but it's not too bold or over-the-top, yet it has a little extra ooomph. I'm just looking for a little cream colored bow to put it at the end, as it is a larger one, so it has space for that on it.

• United States
28 Nov 12
Hi mounis, good for you...you must have plenty of time on your hand..I did even know that people still use bobby pins that much anymore, especially with all the new hair gadgets that exist now... I guess if you still use them its worth holding on to them...

• United States
28 Nov 12
I like my hair pins, I have them in different shapes and sizes. Having a fringe and an uneven length at that, I can always rely to good old hair pins to put them away from my eyes and face or to hold them in place. Sadly, I have lost lots of hair pins over the years. I like your creative way of re-designing your hair pins. I wish I have the patience and creativity like yours so I can turn my old, boring hair pins to something that is more exciting and cute.

• Indonesia
27 Nov 12
you're very creative :), yups, i quess it's better to recycle that hair pin than you throwing that pins, if it can still be used and changed for better... i have hair pins too, but i never try to recycle them, but if someday i get boring with my hair pins, i will do the same like you , lol... so it can make an old pins changed to new pins with creative recycle :)