Today I Received My Swagbucks Account Verification PIN Mail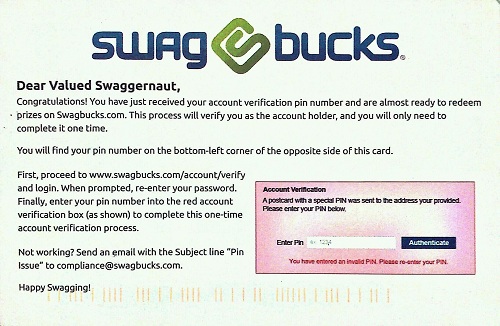 India
December 5, 2012 5:17am CST
It has been long since I applied for my the verification mail. Almost on the 15-16th of November. It was dispatched on 19th November, as seen on the mail postage. I received it today in the afternoon. Today is 5th of December, IST. So it can be assumed that it takes about 25 to 30 days to reach us in India. My Swagbucks count is close to 1,800 SBs. I think I'll snag a PayPal cash card worthe $10 and 1,335 in terms of SBs. In between, day before yesterday I contacted support that its been long that I applied for verification PIN long and have not received it yet. They reset my verification application and asked me to apply again. So I did. So I mailed them again today to stop my latest verification process since I received my earlier verification mail. Today I'm happy. I had been waiting for long and had almost lost hope.

7 responses

• India
5 Dec 12
Nice to see that you received the verification PIN Mail. I have added a PIN code while opening Swagbucks account. It seems Account Verification by PIN Mail is compulsory in addition that number. Thanks for posting details of it with image.

• India
5 Dec 12
Yes it is actually an address verification process and it is compulsory and one time. Swagbucks also offers various items and products in their swag store apart from PayPal cash card. So to send those items they need to be certain about the users address. Thus, this process. Although in India we can only redeem PayPal at this moment, but the future maybe different. So they're preparing us for the future it seems.
Good day!



• India
5 Dec 12
It says that it takes about 1 week to reach for US residents. But since we are in India it took so long. But I was certain that it will reach me, if not today then tomorrow.

Good day!



• India
6 Dec 12
Good news for you. Swagbucks launched itself in India in the last week of October. I'm an Indian too.

Let me know if you need a referral link.

Good day!


• India
7 Dec 12
Yes of-course you can tell me it here. Have you tried it and does it really works for us. I mean to say that have you redeemed for something over there.

• India
8 Dec 12
Here in mylot we are prohibited to post our referral links. So I'll PM it to you. Don't forget to accept my friend request. Yes it works. In a month I've collected enough points to redeem $10 via PayPal. Now that my account has been verified with that mail, I've applied to redeem the same as well. It takes them about a weeks time to clear the payments. Thus, I'm expecting to receive it by next week.



• India
5 Dec 12
Hi, is it compulsory for everyone to get the pin? I mean i tried to snag the bucks but they didn't ask me anything like this.My account is already verified. I didn't redeem still.


• India
5 Dec 12
If your account is verified you do not need to do it. But how do you know that your account is verified? Visit http://www.swagbucks.com/account/verify and check after putting in the password if you see a red account verification box is being displayed or not. If you don't see it, you're verified. Or you'll need to apply for the verification when you try to snag an item from the swag store. I had to go through this after I tried to snag $5. Now that I have more SBs I'll snag $10 instead.
Good day!




• India
7 Dec 12
Same with us. I had registered with Swagbucks long back. But since it wasn't available in our country I couldn't use it. It was only in the last week of October that it launched itself in here and I started using it. Hopefully in their expansion mode, they'll be soon in your country too.

Good day!


• United States
6 Dec 12
MIMO, that is great! I am sure that you were very excited to get that piece of mail. Hopefully, they will quickly process your payment via PayPal. I am sure that you are quite anxious to get your first payment from Swagbucks.

• India
6 Dec 12
Excited, indeed!

I didn't even expect it to be here. Thus, I applied for another verification. When I saw the mailbox, I thought it would be a junk mail from some food joint or other shops. But when I got is out, I was shocked to see Swagbucks written over it in bold, as in the photo. Lets see when my PayPal gets credited.

Good day!


• United States
6 Dec 12
Congrats on receiving the pin and keep in mind if the pin was sent from the US there were some delays with holidays over here but hey at least you got it. Ready to start earning?


• India
6 Dec 12
The delay doesn't matter now. I've forgotten all about it, now that I have it in my hand!

I redeemed a $10 PayPal, as of now only PayPal is available in India, let's see when I get paid.

Good day!