Christmas Party on the Beach :)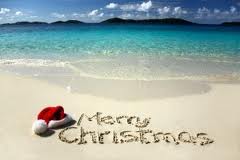 Philippines
December 6, 2012 8:33pm CST
Just this morning our boss discussed to us about our upcoming Christmas Party.Actually we have two Christmas party the first one is made for all of the employees on our company and the second one is exclusively for the main office.The venue of our first Christmas party is always on mansion of the companies owner. Ever since it has been there, and now our head on our office looks for a suggestion where would our second party be?All of us want to have a unique Christmas party hence other suggested that it would be great on a beach, because it is very usual to have on a restaurant. Therefore it is all seconded by us. I am really excited on that day, what would be the experience be? It is the first time that i ever have a Christmas party on a beach. You guys out there do you have any experience to have your Christmas party on beach? was it enjoyable?
6 responses

• Thailand
7 Dec 12
Oh yes, and over night. But it was cold at night time. I don't drink so I am so cold while the other don't. LOL. It was fun and different. we had karaoke and we played beach games during the day. we were like crazy children doing the banana float and having fun with the slides. It was fun.

• Philippines
8 Dec 12
Yes!We are planning to have it overnight, i am really excited because it will be my first time. i hope the weather will bear with us during that day. We are somehow alike on not drinking, well many of us don't drink also so i think i have my accompany on that.

• Thailand
8 Dec 12
It was just very cold. better bring something to keep you warm.


• Philippines
7 Dec 12
Well my friend that would be a great change of venue, since you said it's always on you boss' mansion. It would be a blast because you can eat and enjoy swimming at the same time. But it would mean also lots of foods because it would hunger the people more when they eat and swim. After swimming, they will again be hungry.

I hope you post some pictures here.


• Philippines
7 Dec 12
It would be really enjoying, since this is my first time to have a Christmas party on the beach, besides i don't have to be with descent attires and make up so i wont really worry being wacky during that day. ahah

.i will really take more pictures during that day.

• Philippines
8 Dec 12
Well, you have the chance to show off your sexiness jeztrose!


• Hyderabad, India
7 Dec 12
can i join with you for Christmas party with you ........

• Hyderabad, India
10 Dec 12
ya sure i will come and enjoy with you people

• China
8 Dec 12
It would be exciting and romantic to have a Christmas Party on the beach with blue sea at sight. On Christmas Eve, we will have a wonderful meal in a four-star hotel and watch some performances in the big hall. Although it is not that exciting as that of yours, I am looking forward to its arrival. Merry Christmas to you, jeztrose.


• Philippines
7 Dec 12
i'd love a beach party, too, because the atmosphere will be casual, unlike other closed venues where you have to dress up, mind your table manners and behave. at the beach, you're in flipflips, shorts and tank top, chatting, joking, laughing, playing, eating with your hands. just pray for good weather and road and water safety.

• Philippines
7 Dec 12
Yeah right!it has really a great difference having a party on a restaurant and on the beach.I can be wild there and no worries about my make-ups and attire. Well yes i hope the weather will be good for us that day,that is the only thing that we cannot control.