Pinoys love videoke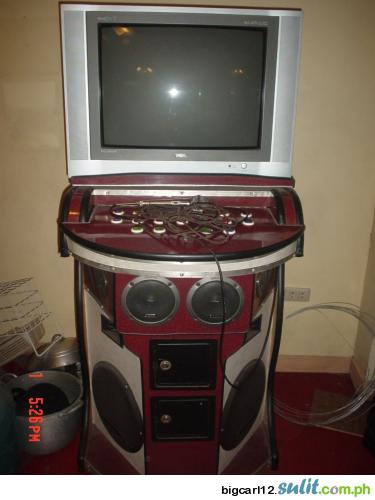 Philippines
December 7, 2012 5:32am CST
Whenever Filipinos have a special occasion like birthdays, weddings, anniversaries, graduation, etc., there's always a videoke machine. I guess Filipinos just really love singing their out whenever they're happy, even when sad. Remember zendee rose, the newest youtube sensation? She was discovered by Ellen degeneres on youtube after someone uploaded a video of her singing in a videoke at the mall. I guess videoke is really invented for Filipinos.
8 responses


• Philippines
7 Dec 12
Yes I do agreed, There was an instances that our neighbor rent a coin operated Videoke and it's too noisy during in the evening, we cannot sleep so my family decided to approach a police officer to solve this problem because its too disturbing !! RAWR




• Philippines
9 Dec 12
and when their drunk. there would be fights. i just wish they would stop at 10 pm the most. the neighbors also need enough sleep for work and school the next day.

• Philippines
9 Dec 12
I grew up with both families of my parents close to music. I remember my mom who used to sing and record her songs. And yes, every occasion there was singing all the time. The first time the karaoke was introduced, my dad bought one and so as my other uncle. So we would be bringing that thing where there is an occasion. Now I am older, I get hooked to karaoke sometimes too. I love singing Caren Carpenter songs (although I am not that old). I just grew up hearing those songs from my mom.


• Philippines
9 Dec 12
I am a big fan of Videoke. Me and my boyfriend has this habit of renting a Videoke Room in the mall. We do this once or twice a month. Sometimes, we even talk about what genre of songs we are going to sing. Also, during our reunion and birthday party, there is always a Videoke and Pinoys are always aggressive about their turn.

• Philippines
8 Dec 12
That's true my friend, Filipinos are so fond of singing videoke.

Whenever there's a gathering , they would hire a video machine, for only 1000 for at least 8 hours. No wonder, some Filipinos would start singing in the videoke machines after the party's dinner, then until the wee hours of the morning, much to the annoyance of the neighbors.



• Legaspi, Philippines
7 Dec 12
Hi friend! Yes I am one of those who really love to sing at any given situation. It it a good stress reliever for me. Even if my family are the one stressed if I sing, he he. Have a nice day!


• Thailand
7 Dec 12
Oh yes, we own a videoke, and when videoke breaks down, my sister (videoke addict) make sure that will buy another one for replacement. During our idle time at home and past time (even no occasion) we sing. This is our bonding time. We have a lot of time singing together (though we don't have good voices) Now since I am practiced to singing, at this time, whenever there is a party here in where I am, they request me to sing. I sing not because I have good voice or I am not shy, but I don't like to embarrass the requester. It will turn that I sang the song well.

. They must have good sound system.