I was really shocked and excited with what I found out....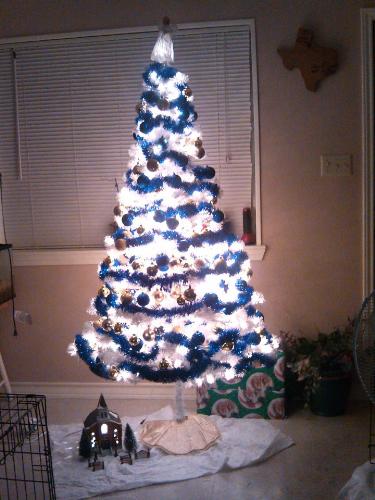 United States
December 9, 2012 2:59pm CST
So yesterday, I decided to check my work schedule, because I wanted to know if I'd be working on Christmas Eve. I'm at least very grateful that we have off Christmas Day, but I always expect to work Christmas Eve. I work in retail and at Wal-Mart, and they are open Christmas Eve. They close the store down early and then we workers have to stay until the entire store looks to be in tip top shape. Then everyone is able to go home and be with their families. Well last year, I had to work Christmas Eve and it was so chaotic and we didn't leave until like I believe 12 or 1 ocklock in the morning. It was nice, we didn't stay so late and it was nice just to be off. But I really didn't like working on the day before Christmas, I'd had rather be home with my husband on Christmas Eve, and just bringing in Christmas day. Well anyway, I check my schedule and I am so happy to know that I have off Christmas Eve. It is very exciting, I didn't even expect it that they would give me the day off. So now I can just relax with my hubby and maybe we too can go to church as well. This would be great. I also have off the day after Christmas, so I kind of have like a mini vacation. It would be nice if I could go home to be with my family on Christmas since I have that amount of time off, but with all the problems that we have been having and plus the money to be able to travel there, it wouldn't be possible. Maybe if it is the same way next year, then I will want to travel home to see my family. I feel like Wal Mart has given me the best Christmas present ever, by giving me off Christmas Eve.

And also we finally got our Christmas tree up and finally decided on the colors for the tree. Thanks to my husband who found the beautiful blue. We haven't done much Christmas shopping yet, so really no presents except for the one near the wall, my hubby got sneaky and bought me my gift early.

Maybe I should get sneaky and do the same.
3 responses


• United States
9 Dec 12
I have tons of gifts and a tiny little tree.. I think I am going ot buy me a tall tree after the new year.

• Mexico
9 Dec 12
Sounds like it might be a merry xmas at your house this year... Ive had the tree up here about a month now. Merry xmas to you there.