Have you seen "An Inconvenient truth"?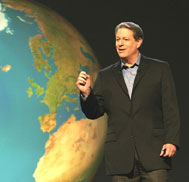 Belgium
November 22, 2006 8:05am CST
A great documentary film about the pollution on the world... You have to seen it!
2 responses


• Belgium
24 Nov 06
Thanks for comments...This problem is very important...We have to do all something!

• United States
22 Nov 06
I did see the movie. I enjoyed it and found it to be educational. I did also think that it was a bit of a commercial for Al Gore's political campaigning though, and I didn't like those parts. But the message was good.

• Belgium
22 Nov 06
agree with you, it'as also a help for Al Gore' political campaigning but i have seen this film with students and they was very surprising by it!