Manny Pacquiao vs. Juan Manuel Marquez 4 fight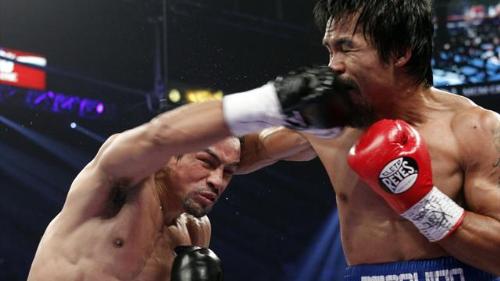 December 13, 2012 8:41pm CST
Last Saturday, December 8, 2012 at the MGM Grand Arena in Las Vegas, Nevada the fourth and i think the final encounter of the two legendary boxers. I think they both had a good fight last Saturday. I know Juan Manuel Marquez had landed a lucky punch on Manny Pacquiao chin. Marquez until he hits Pacquiao with a monster left that puts Pacquiao down. He is out cold. Unbelievable. Marquez has KO'd him flat cold. Even if Manny Pacquiao lost his fourth fight with Juan Manuel Marquez . I still believe that he is one of the best boxer in the world. He is the first eight-division world champion, in which he has won ten world titles, as well as the first to win the lineal championship in four different weight classes.
2 responses

• Philippines
4 Jan 13
Right, even in his defeat, he is still the best. With his achievement in boxing, I think that feat is very hard to achieve. Hopefully, Manny learns his lesson, though it's a bad loss, but he's a born fighter and I believe that he will come back with a vengeance. And set another record. :)

• Philippines
8 Jan 13
If Manny survived that round, it could have been the other way around. It could either end up Manny knocking out Marquez or another decision win. Throughout the course of the fight, we can see the difference of fighting ability between the two, and its obvious that Manny is really the stronger one. Hope we see the fifth fight.

• Germany
17 Dec 12
Im still proud of Manny Pacquiao after their fight with Juan Manuel Marquez. Some people say, he lost the fight because Manuel change another strategy or style to defeat Pacquiao and Pacquiao is just consistent of his boxing style. well, whatever is the truth behind the loss. He is still the "Pambansang Kamao" for all the Filipinos.