...Hello Dolly! You're so delicious!!...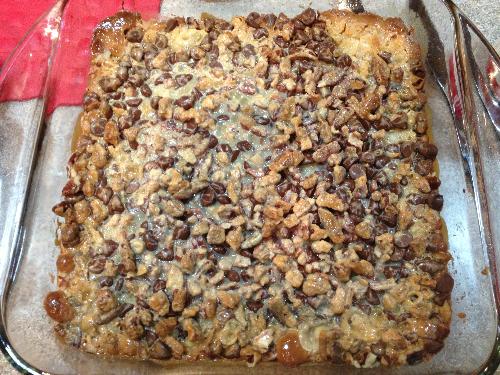 Japan
December 23, 2012 1:12pm CST
Oh well since Christmas Eve is tomorrow night and I was preparing for what I'm going to cook and cookin utensils that I'm going to use I found a small very old piece of paper with recipe of sweets and the name of the recipe is "Hello Dolly" so when I was reading the ingredients and procedure I noticed that I had everything to make this one and yes I made them perfect?? I let it cool and had a small piece and baboomm so delicious I can't stop eating and cutting more piece?? Look at the picture of hello dolly sweet I made??
4 responses

•
24 Dec 12
yes it is very delicious. Thanks for delicious sweet on the Occasion of Christmas. Merry Christmas to you and to all My Lotters

• Japan
24 Dec 12
Great! You're welcome and same to you enjoy the Christmas Eve ???

• Mexico
23 Dec 12
sounds great. how about giving us the complete recipe here? Id love to try them. Happy cooking, and merry xmas...

• Japan
23 Dec 12
Oh sure?? you should try it as soon as you can and oh I have the recipe and procedure above posted?? on my first comment;-)

• United States
23 Dec 12
I am sure it tastes good and hope you get to make even more treats. I think it is very nice to male sweets for the holiday.

• Japan
23 Dec 12
It is absolutely taste good and I will make more for my friends and some neighbor so they can try it??

• India
23 Dec 12
Thanks a ton for sharing this discussion. Ha ha ha. Initially i was confused when i saw the heading of your discussion but as i went through your discussion i gotta know that u were actually talking about a delicious sweet named Hello Dolly. In fact to be very honest every one would be confused initially but i am glad to know that such is the name of this sweet dish and i know it might be delicious as u have mentioned it also. The picture looks cool and i would also love to try it in my home. What say?

• Japan
23 Dec 12
Hahaha I made you all confused hah??? I just live how it taste and its really delicious. You can try it home too it's just Graham bread crumbs condence milk, pecan or almond nut and ground coconut meat just mixed it all evenly in a pan and bake it for 375 degrees for 25 mins.??