we chose to just buy

Philippines
December 24, 2012 2:37am CST
Every Christmas, i prepare the foods for the Noche Buena (24th midnight Christmas gathering on the table to eat). But this year, i only did the buko and the chicken macaroni salad. The rest will be just bought. We realized, we don't have to tire ourselves just to have foods for the Noche Buena, because anyway they taste as good as my cooking. At least now, i am done preparing and so i am here.

8 responses

• Philippines
24 Dec 12
Well at least you wont get tired that much. As you said that the foods you bought are as tasty and delicious as the one you cooked so it will be just okay. I am the one who made the graham cakes, the one with fruit cocktail that my sister bought and the cookies and cream one that I experiment. I am also be the one who will cook the spaghetti which I used to cook every year. I guess one of my speciality. Have a great Noche Buena with your family and a Merry Christmas.

• Philippines
24 Dec 12
Is that graham cake , the one with peaches or ripe mango and with cream, ardoy? I love that too. As to spaghetti, we just ordered from my cousin! Oh yes, i also turboed a chicken! So, here i am , we are waiting for the noche buena time! Merry Christmas to you and your family too, ardoy!


• Philippines
25 Dec 12
I made to flavor of it. The one is with fruit cocktail that my sister bought and the other one is my own version of cookies and cream wherein in just put ground cream-o cookies in the cream. I am planning to make the one with mango on the New Year's eve.

• Philippines
26 Dec 12
I also plan to make something like that on New Year's day. If you can do it, i think i can do it too, Ardoy.


• Japan
24 Dec 12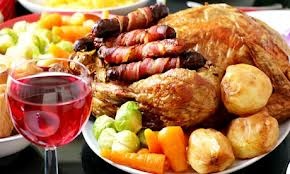 Hi there christmas in tonight here and we do the same too we are going to cook some and other food is just going to be warm up in the oven haha I'm sure they do taste the same and we all going to enjoy the Christmas dinner with family;-)

• Philippines
24 Dec 12
well, whatever foods we have prepared, what is important is that it will be partaken by the whole family in tonight's Noche Buena, Kyle.


• Japan
24 Dec 12
Oh that's right!! I agree with you and I will enjoy ours later tongt??

•
28 Jan 13
A nice relaxing Holiday is always nice too. I enjoy making things from scratch for my family and knowing everything I put in, but there are some store bought things I really enjoy eating as well.

• Philippines
30 Jan 13
Yes, exactly. If the store counterpart of foods tha you will be preparing is just as delicious as your cooking and just a bit expensive, then you might as well just buy from the store. At least, you are well rested and have more time to bond with the family.

• Philippines
26 Dec 12
Hello SIMPLYD! There's nothing wrong with store bought food. As you have said, they are as good as our cooking. I too just made chicken macaroni salad, baked carrot cake, and baked the ham I bought......since we're not that hungry after the mass, we just had a light Noche Buena of ham sandwich, macaroni salad, and carrot cake for dessert. Here's a tip if you're going to have a store bought food on the table, to make it your own, just add a couple of ingridients and voila! ....you have a new dish. :)

• Philippines
27 Dec 12
We too had a light noche buena. We couldn't wait for the noche buena so we ate the turboed chickens for dinner already.


• Philippines
25 Dec 12
Hello there. We really don't cook much on christmas eve. We too just had fruit salad last night and sandwiches. It is on New Year that we cook extra foods. I don't know if you're observing it, but having plenty table means more blessings to come for us for the new year. Besides, I was busy too this year selling fruits and vegetables infront of our place. I have a business here at the side of the market. I decided to try selling this year so that other sellers will not sell here in my frontage. It is just this year that my kids are teeners already. Last night, they are busy with their friends going to the church and they just hang around chatting almost all night. Merry Christmas!


• Philippines
25 Dec 12
That is also the belief of my parents my friend. That's why they have more foods prepared on New Year's eve and on the day! Us here , when new Year's day comes, we don't cook that much anymore. Whatever were cooked for the Media Noche, will be what is for new Year's day. With so many foods we deemed it right not to to cook on the day of New Year itself.

• United States
25 Dec 12
I used to do a huge buffet feast for 40...but now...it will just be me and my daughter and grand daughter. She specifically asked for NO big meal...she loves my spaghetti so she said to make that. So I am! And I bought Texas Toast with garlic to toast. I didnt' even bake cookies.. and that is so not normal for me! I am not having a very happy holiday this year, so things just aren't that great. I did want to have snack foods during the day...so I splurged and got Velveta cheese and will make a cheese dip, I deep fried 5 dozen corn tortillas for chips and will make my famouse bean dip. Doesn't sound to happy or festive, but it is what she wanted so...that is what she gets! But hey, no reason you have to make/bake everything. Years ago I did.. literally baked everything! 2 meats, 3 veges, 2 salads, 2 sides like potatoes, 2 breads and a bakery of baked goods. I did all that work, but enjoyed it, but I also did all the serving and cleaning up...literally ...no one helped me! They were all in the living room visiting while I did clean up and all! I finally got fed up and started making people bring something and that way, I didn't have to work the entire day and they were there to help clean up cause they had to make sure they got their dish back!

• Philippines
25 Dec 12
My you really did all that by yourself. You are amazing my friend.

No wonder you got fed up and did that. Well at least, they noticed and helped. It's easy to cook when there are helpers to help you clean up after. It's difficult to be cooking and then washing the dishes after. It makes my hands stiff! But now, i know better!


• Philippines
25 Dec 12
Well, the foods that comes with the occasions are not eaten in an everyday basis. Eating them in moderation will not do us a great harm. As long as you are always doing some exercise and eat lot of fruits and veggies , it's okay.

• Philippines
24 Dec 12
Ready for the Christmas Eve? Merry Christmas to you and to your family circles...


• Philippines
24 Dec 12
Yeah, very much ready! We're just waiting for the Noche Buena time.