Ever drove across a covered bridge?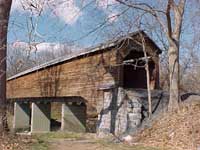 United States
November 22, 2006 9:16am CST
The bridge was built in 1894. The Meems Bottom Bridge was constructed in 1892-93 by Franklin H. Wissler. To provide a more convenient access to his apple orchards and Strathmore Farm. He built it well with strict attention to proper drainage of rain and surface water and topped it with a roof. Mr. Wissler deeded the bridge to the Highway Department in the 1930's in return for assuming its maintenance. It was placed on the Virginia Landmark Register, as well as the National Historic Register in April 1975. After standing for more than 80 years, it was tragically destroyed by vandals on Halloween in 1976. I was only 13 at the time. The vandals were a little older than me. For what stupid reason, prank whatever. They destroyed a historical, facinating old bridge. The loss was felt throughout the county. All of us had memories from that old bridge. Picnics and fishing with the ole girl standing proudly before us. Just the history that went with the bridge. The years and many travelors she saw. It was just such a shame to lose it. Fortunately, however, the bridge was repaired, improved and reopened in 1979. It was so cool to watch the rebuilding of it. Today, Meems Bottom Bridge is the last remaining covered bridge in Virginia maintained by the Department of Transportation for public use as a throughway. The bridge has over a 200-foot single span Burr arch truss, which makes it the longest covered bridge still standing in Virginia. Have you ever crossed a covered bridge?
8 responses

• United States
25 Nov 06
No, I've never crossed a covered bridge, but I'd sure love to do that one day. To my knowledge, we don't have any near us in South Florida. They do fascinate me. Years ago, I did cross a floating bridge in NW Florida. Depending on the tide, you either went down it, then up; or up it, then down to get across. That was neat, too.

• Australia
25 Nov 06
I cannot remember ever seeing a covered bridge at all, although I have been over many different types of bridges. There are still a couple of 'opening' bridges here in Australia and they open to allow ships to pass through. It was sad that some idiots had to vandalise this very old bridge, but at least it was eventually repaired and is now maintained.

• Australia
23 Nov 06
not one like that, but there's one in New Zealand that has train tracks on top of it :) its pretty cool when you're driving over it and there's a train directly above you

• United States
23 Nov 06
The only one I've been through, that's coming to immediate mind, is the one up in Mt. Jackson that we drove through when me and the brothers were still little kids. I really enjoyed that, such an eerie, odd, sensation. Ecspecially when we parked on the other side, and got to walk back inside to check out the bridge a little better. It was just so heart breaking to see all of the lame teenage graffiti that people had marred the inside of the bridge with. u.u


• United States
22 Nov 06
Yes we have several in my area of Pennsylvania