What is the right age of a child to be allowed to own his own laptop?

Philippines
January 20, 2013 1:43am CST
When I was in college. I do nothing but play games and I guess even young adults right now like to play video games and computer games. But I don't like that traits and I don't want if I have children to be expose to computer games at the younger age. I want them to play traditional out door games and not computer games. And this is the problem. Since in school children do need to have computers and because of low space I prefer to use laptop and it can't be avoided that in schools his classmates will going to talk about computer games and he going to feel outcast if he is also not expose in computer games. That's why I'm wondering. What is the right age for a child to have his own laptop. Just to balance the two.
3 responses

• Howrah, India
21 Jan 13
I think it will be better to make 2 user accounts in one computer,and let the child use the one account where the games portion will be blocked...

• Philippines
24 Jan 13
I prefer to buy another one than to let a child use my laptop. Since I'm using my laptop for works and theirs some important information. I don't want my laptop to get crush or get some virus that going to jeopardize my job.

• India
21 Jan 13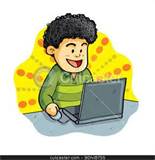 I was a very lazy guy in my college days too. I liked to play a lot on my desktop. I think it is not fixed as to how much age a boy is allowed to play computer games. Playing outside with friends is really fun and more enjoyable. I also prefer laptops nowadays but not so in my childhood. So lately I am using my laptop more.

• Philippines
24 Jan 13
So what age is it? I started to use computer when I was in grade 4 and that is like 20 years ago. But back then theirs only limited games that I can play. But now it seems theirs a lot of different game that we can play even for young age. lols.

• United States
20 Jan 13
If you want to limit your child's pc time, there's no need to buy them their own pc. Let them buy one when they are old enough to. If you don't mind your child whimsically using the computer, than you can give them one as soon as they are old enough to use one.

• Philippines
24 Jan 13
Since my laptop contain some important documents. I rather buy new laptop so that he have his own laptop. Anyway thanks for suggestion but you still not answer my question. So what age is old enough for you for a child to own a laptop?