YOU JUST FAIL... Sorry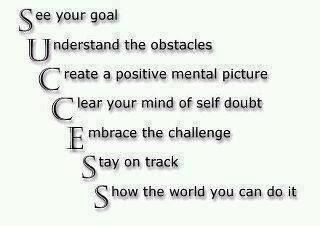 Thailand
January 23, 2013 6:00am CST
I just want to share something for those who thought success are impossible to achieve. This was photo image shared by a friend in Facebook. I found this very enticing and I know this could be a good reminder about success. Most of the time, we tend to be discouraged when things we plan won't go the way we want. We curse people whom we thought got in the way for achieving these goals. We question God and we question ourselves and or our capabilities. We question our abilities. We blame even the black cat who passed in front of us. We even burned the shirt we were wearing to drive away the bad spirit away. Then, we lose hope, we blame people, we blame fate. We just sit in the corner endlessly ponder what you could have done wrong. http://www.facebook.com/photo.php?fbid=10151122095933759&set=a.316290353758.150110.206334518758&type=1&theater
10 responses

• Romania
23 Jan 13

Oh thank you! Just exactly what I need at these days. First, my clixsense is not giving me much tasks, then I'm striving to achieve payout in mylot and now I've been sending my CV almost everywhere now

, feels like my face will be all over Romania. Anyway, your topic just inspired me again to keep on doing what I'm doing now. Thanks.

• Thailand
23 Jan 13
wow... such a coincidence. Great to know that it inspires you.. keep a copy and save a copy on your computer so if you feel you are losing hopes again, you have something to remind you. Yes. go go go Verns ... Believe you can and you are halfway there... Good luck on your job searching... i wish you well.

• Thailand
23 Jan 13
LOL. jump out? hmmm.. how high? hahaha.. well, just read my discussion (ehem) before doing so... or before you jump.. bake a delicious chocolate cake for me pleaseeeeeee.. i am so missing chocolate cake...


• Perth, Australia
3 Sep
@Mavic123456
Good picture! Sometimes we do need to be reminded of what can can achieve.

• Thailand
3 Sep
I am glad that it was here. LOL some of the pictures were deleted.

• United States
24 Jan 13
Yes, I've done all the things you said. It doesn't help. Although I did feel a little better after cursing at the person who got in my way.

But success can be an elusive dream for some. The older you get the harder you have to work to achieve it if you haven't already. At least this seems to be true for some. Then others procrastinate. The very bad disease of procrastinitis. I've had it for years and all the herbs and vitamins I rely on do nothing to chase it away. I think it has to do with the mind and something called self-discipline.


• Thailand
24 Jan 13
it doesn't something because that's what you always think. how about looking at some things in a different perspective it may help. wait, i will be back people are coming in for lunch now, and it is lunch time here... yepeeeeee (free lunch)

• Thailand
24 Jan 13
Miss Dee, is this a part of your book.. great one.


• Thailand
23 Jan 13
you are much welcome and I also wish the same for you.

• South Africa
24 Jan 13
Sometimes people define success in 'stuff' they have obtained over years. I think success has to do with who we are when we are alone or with people. Succeeding is when we are able to make another person happy. We have succeeded when we make room in our hearts for the less-loved.

• Thailand
24 Jan 13
Miss Dee is this from your book too? such a great analysis of success, eh... whoo hooot

• Philippines
24 Jan 13
Yes, this is sometimes true. We are fond of blaming people or even the black cats we meet on the way. LOL. I guess we can'tget all that we want. There is always time for everything. We can't get them at once. We have to work for them. If we are patient enough and we're doing our best, it's possible for us to achieve our goals. Life is not that easy. It's full of challenges. They are getting more and more difficult to surpass; but, in the ned, we'll still get what we want. It's up to us if we'll give up or fight for those things that we'd like to have. Thanks for sharing the photo. I hope all of us we'll be successful someday.

• Thailand
24 Jan 13
yes, everything you said is true, if we keep on aiming for the goal, we will be able to achieve it unless it is really something not achievable.

• Philippines
24 Jan 13
The reasons is most of us want always to get what we want, We don't prepare ourselves to to accept frustrations in life so most of the time if we don't succeed we create alibi to hasten the defeat of our planned.

• Thailand
24 Jan 13
yes... then we blame on other because we don't like to accept failures... Failures are so human traits there is nothing to be ashamed of this neither to be afraid of.

• Philippines
23 Jan 13
A pleasant day Mavic123456, That was really a wonderful share. What can I say, I guess, I should bookmark the link so I can read it all the time. Especially if I feel low due to some pressures in life. And I guess, in every rain there is sunshine after it. A rainbow appears afters a hard rain that falls.

• Thailand
24 Jan 13
Yes, Aira, feel free to use this link so you can be reminded of every time you need one. Yes, I love rainbow and rainbow is a promise. I smile every time I see a rainbow, (am I crazy?).

• United States
23 Jan 13
Yeah we often are upset and frustrated when things don't go our way. It is best that we get up from that depressed state and reevaluate what we want. We can either adjust our goal or change it completely.As long as we continue to work on what we need to. I'm hoping to take a refresher course for college starting next month. Then in August of 2013 I hope to start going to college full time. I have been out of school for awhile now but I'm not going to let that discourage me. I'm going to do y best to make this opportunity work.

• Thailand
23 Jan 13
wow.. such a spirit.. go for it.. for education is a wealth that will never fade. go go and stay focus on what you want. it is achievable anyway, and you will surely find success in your studies... and finish your college.

• Philippines
23 Jan 13
One must learn and grow mature to understand a lot of things beyond control. We learn the best lesson from failure and pain. We live to move on and forget the past. Stop blaming others or never get discourage when things went wrong, instead try to take another step avoiding the same track. Most of all, never rely on your own- Trust the Lord with all you heart and HE will direct your path.

• Thailand
23 Jan 13
AMEN. we can never know what his plans for us. sometimes if he closes the doors he opens the windows, widely open.. so AMEN to this.

•
23 Jan 13
lot of times we all do this blame game. It is because we are so frustrated with constant failure in our lives. But i think we just need to believe in ourselves and have a great amount of patience in us. Keep on doing the hard work that we put in always, and i think the success which is meant for us will be our one day. There is no doubt there is success it is just early for some and too late for many.


• Thailand
23 Jan 13
noo there could be no too late for many... while we are surviving we still succeed. unless we stopped dreaming. Patience is the add on something to the success.. Cheers for our success to more earnings here in mylot. cheers!