Siamese cat in memory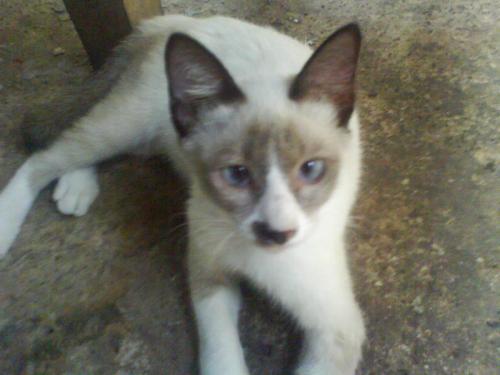 Malaysia
January 26, 2013 1:09am CST
It's been over 6 months my sister lost her cat. She told this cat went missing while he works. This cat may have been taken and preserved by the new owner. I really like playing with this cat. Hmmm now it was gone and it just in my memory. Luckily I took his pictures so i can always remember about him.
3 responses

• Pamplona, Spain
27 Jan 13
Hiya Akamarukei, What a sad story but you know the cat itself might just be able to get out one day without the other owner knowing and go back to your Sister´s house. You never know some pets have turned up like that especially cats. Cats are persistent in getting what they want it might just turn out like that at least I hope so. Dogs often turn up too even after years of being declared missing.xxx




• Malaysia
28 Jan 13
Before this he had missing but he know to come back but when he missing for second time he not come back. I think someone take him as a pet. I hope he still alive.

• Canada
26 Jan 13
As an owner you need to be responsible for your animal. I know if my animal went missing, the town would know about it. Most people who take in a new cat will have it for a period of time, and noone looks for it. Majority of our animals were brought in, many you could tell were someone's animal indoor well fed cats. We still have them 6 - 10 years alter and not once has someone looked for it, put up pictures, or called the humane society.

• Malaysia
28 Jan 13
Hmm that not my cat that is my sister cat. She live at other house. When she have time she will bring back this cat in our house. It is her fault because not put her cat in cage when she went to work.

• Thailand
26 Jan 13
this is very sad. losing a pet is sad. I want to show your our cat. Her name is Ningning. my sister's spoiled brat cat. She loves dresses, nail polishes, necklaces and perfumes. She has a beautiful cage just like a princess cat sleeping on it.

• Malaysia
26 Jan 13
Yes it so sad. We just call him sirek. Hmm i think your cat is very cute because your sister very love with her and treats her like a princess.