Emotions of a portrait.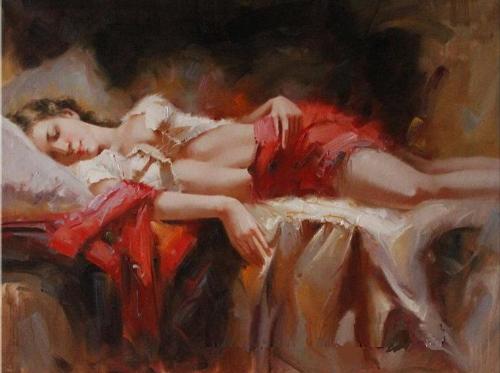 India
January 26, 2013 4:01am CST
It is a lovely saturday. Clear blue sky, yellow bright light shinnin on the tree leaves. I am sleepy. I should be very much cheerful for the lovely weather but I am sleepy and I feel tired. For last two days I have been sleepin close to 2am. Last night I was just tossing and turning in my bed. Mama called me, I ignored her and pretended as if I am sleepin. I dint want to answer that I am still awake. and then I dont recollect when I slept. I woke up 7am scrolled my phone with one eye, threw my phone and forced my self to sleep. I dont think I just remained in a state of faintly asleep. The best thing was a dream that I had towards the very early morning hours. I saw me lying on a sofa like an artists portrait. I was dressed with lite laced hat, my dress was lite white with a single breathe of pink. One of my legs was suspended in air and the other touched the ground, the rest of my body was on the sofa that more looked like a comfy bed and I was lookin at the artist. I didnt see the painter in the dream. Emotions of a portrait.
1 response

• India
26 Jan 13
it all depends on the painter and the amount of effort he has put in to make the painting lively and superb for sure

• India
27 Jan 13
if te painter is makin the art to make money then I think he will not be able to make a great art that touches many people.