Odd Talents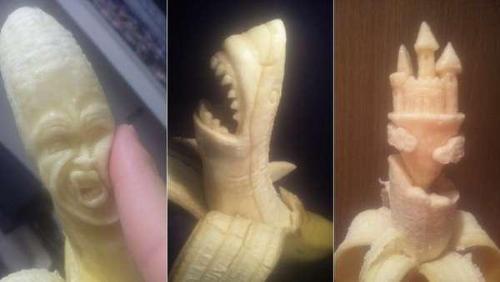 United States
February 2, 2013 6:15pm CST
I've recently read about a few really odd talents. One is a banana sculptor and the other was a photographer who takes photos of dogs in or underwater! How in the world do these people come up with this? For one thing I don't automatically come up with dogs and water together. There are some dogs who are more drawn toward water than others and not all dogs like water. If I'm thinking about a dog it is usually about them rolling around in dirt! Not swimming. Now the banana sculpting I still can't wrap my head around either. Why not sculpt something that won't last? He has talent I'd say but what is the purpose? He eats them right after he sculpts them! I'd rather do that in clay at least that will last more than a couple hours.
8 responses

• India
3 Feb 13
But there are countless that build castles in the sand and worse still who build castles in the air. Atleast one can eat the banana sculptors but not these!


• United States
3 Feb 13

No you're right, you can't eat sand. At least your castle in the banan is also a tasty treat!

• Canada
3 Feb 13
I have seen some pretty amazing sand and ice sculptures! Very nice! I have no talent though, I can't paint, sculpt, or draw ... even my stick people are pretty pathetic!

I don't think I have one talent/artistic bone in my whole entire body!

• Canada
3 Feb 13
True, at least banana sculptures can be eaten!

Agreed, very talented people out there!!!! I am not one of them though sadly!



• India
3 Feb 13
Banana sculpting, well I have seen quite a bit of those stuff. It is a sort of an art form which is mainly used in vegetable carving festivals and fruit carving festivals which happen in schools and colleges. It is all too good to see the fruits and vegetables , which are being used to do something creative out of it and when you o fir such festivals , you would yourself be inspired to do so . as far as the guy with dogs, well, like you i can also imagine dogs only with dirt around them and of course the house dogs which are hygiene. I have a friend who has a weird talent of moving her veins in the hand from one side to the other without any help . When she moves her finger , she will be able to push her veins and I have seen another women on the internet who could make her eyebrows dance when the music is on! such is the weird talents that we come across. It is all weird, but then you know, this world comprises of all such talents and it is interesting to know that such varieties exist in this world.

• United States
3 Feb 13
Wow that's a really odd one of your friends talent. Welcome to mylot by the way. This banana sculpting is really kind of neat but its also funny to me as a talent is all.

I just never would think to try carving into a banana, I just eat it


• United States
3 Feb 13
I'm the same! I would get tired of it and just end up eating it half way through or worse.



• United States
3 Feb 13
Yes and the fruit even decays fast so you need to sculpt fast.


• Philippines
3 Feb 13
I think that with the banana sculpting, some would be inspired to do the same as part of a food presentation. He must be just an ordinary fellow to even think of making it part of the food table, so he must just having a weird way of how to eat his bananas.


• United States
3 Feb 13
Food presentation hmm.. well seeing as one of those is a shark I guess he wants to scare his customers?


• Philippines
3 Feb 13
Hahaha! Well, why not? If there was a theme to a certain party, that should come in handy!


• United States
3 Feb 13
Sure that could be an even smaller niche in that cullinary art, food that scares!



• United States
3 Feb 13
Tooo funny!

I can't imagine why he would want to do that and destroy them. I could see if he varnished them afterwards but I don't think that would work, haha! He should get himself some soft wood and do some carving, or maybe he does that too..who knows. Photography is an art. I would think he thought of it because no one else did and maybe he's selling them to magazines, etc. I would have liked to see some of those pictures for the heck of it. I love photography but never heard of dogs under water being photographed.


• United States
3 Feb 13
The dog photos were comical and way cute. Wish I'd saved that page so I could share it here. I can understand wanting that niche so I'm sure that's why he chose to photograph dogs in that way. The banana one is so funny though. I wonder if he does utilize his carving talents elsewhere.


• United States
3 Feb 13

I didn't think about that when I said it, lol!

• United States
3 Feb 13
Yes, it will be right on the shelf next to the Chia pets.

All for your holiday enjoyment.


• India
3 Feb 13
See, the mentality of no two people id the same. These kind of people likes to do something different and get popularity from the people around them. To do that they mix things that have no relations so that people think that their idea us unique and remember them. That's all it is.

• United States
3 Feb 13
It takes a very creative mind. I have a creative mind but not that creative!

• India
3 Feb 13
they are quite hard to come and also the range of talent of dogs does vary and they are really funny to watch




• United States
3 Feb 13
Dogs are funny and some are pretty smart. My pet dog is very funny he will howl or bark when we talk to him like "do you want to go out" or "are you hungry?" he'll bark at us til we get him some food