Helping others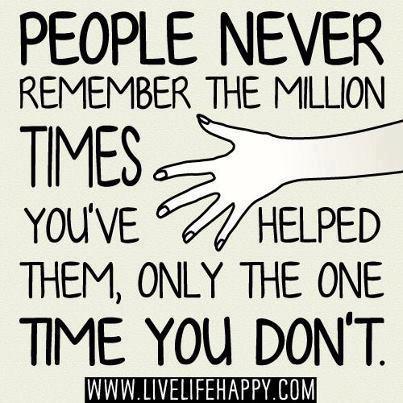 Philippines
February 19, 2013 4:44am CST
Was there a time in your life that someone get mad at you for not helping them?I mean you have a valid reason for not helping them and they did not understand your side of the story and they thought you just left them with their problem.You can share what happen here .I uploaded a beautiful picture about my topic or discussion check it out. !
5 responses

• Malaysia
19 Feb 13
I was experienced this, I like to help others on gaming thing but for some reason I need to keep secret of something about game, they ask me how to but I don't help them at all, it's not a selfishness but had my own reason, but then they keep selling my name everywhere in FB that I'm a fake helping person

but I don't care at all as people know me well then they will know who I am


• Philippines
19 Feb 13
Well it don't matter if think you've done nothing to help them the truth will always be the truth. The most important is you tried history will tell so stay cool

• Philippines
19 Feb 13
You are right! But people tend to be so nosy I don't think if that's the right word or sour graping because they expect you to help them like always and that they will not think of ways to resolve the problem and as a result they might think you neglect them and left them alone ahahahaha..

• Philippines
21 Feb 13
I can relate to this. I have a friend who asked me for some thing, actually it was not just some thing but a big thing. I didn't really have the capacity to do her favor so I told her that I couldn't do it but she insisted several times for me to help her. She became mad at me but I had no choice but just to let her be since I really couldn't do the thing she was asking from me.

• India
19 Feb 13
I did not experience that I leave somebody and not help him or her for some reason. but I have experienced that everybody left me alone when I was in trouble and it hurts me so much.

• Pakistan
19 Feb 13
I think at that moment when someone is in trouble can't able to thing the position of other one hwo is helping him.That's the point where the differences occure between two parties.Some should explain them that it's not about you helping it's about my position that i m not able to help you.A discarding moment.Not love these moment's