Spent The Day In The Mountains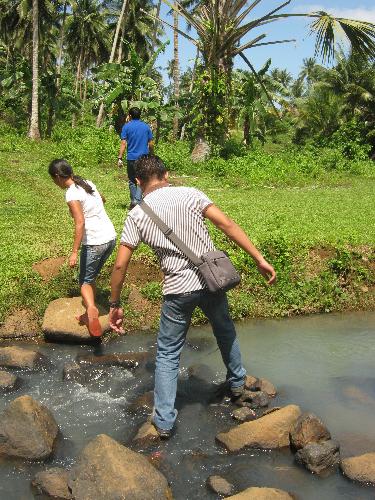 Legaspi, Philippines
February 27, 2013 5:57am CST
One of the activities of a certain committee, The Municipal Nutrition Committee specifically is to monitor projects sponsored by the Intervida, a non-government organization which has an aim of promoting the lives of the people. My supervisor already given me the task related to the activities of the committee so whatever projects they may have, I will be the one to attend. And so today is the day when the committee will be monitoring the projects given to certain beneficiaries in the municipality. This include certain villages (barangays) in the area. The group visited several barangays and checked whether they were able to complete the projects given to them. It was an exciting activity for me because I was not able to visit those places yet. Although it is a bit tiring because the vehicle could not go to places which are located in the mountains so we need to walk. We need to walk, we need to climb and we need to cross a river. I was tired but happy. This is a very good experience for me. Although my legs and lower back are painful. Have you ever tried climbing a mountain? Have a great day everyone!
9 responses

• India
27 Feb 13
When I was holidaying in South New Zealand, we were taken to the top from where the bungee jumpers performed. From there we could climb further up which I did on foot not realising there were cable cars. It was a huge rough climb.

• Legaspi, Philippines
27 Feb 13
Hi allknowing! Wow! That is one kind of experience that you got there. Climbing a high place is really not easy. Thank you for sharing!

• India
27 Feb 13
Do you get to do this on a regular basis. You are one lucky girl!


• Legaspi, Philippines
28 Feb 13
This is the first time that I was able to join the monitoring team. The group will just have to monitor projects on a specified time and not very often I think. Have a great day!

• Mexico
27 Feb 13
i am glad that you had a great time and a little pain is always worth the reward in the end will you be doing more trips like this again if you do it would be nice if you could take pictures of the trip

• Legaspi, Philippines
27 Feb 13
Hi blackrusty! Yes, I am so happy with my new experience. Although my body is aching yet the knowledge that I gained is worth the effort. Thank you for sharing!

• Mexico
27 Feb 13
well not to worry the pain will go away but the things that you say will never leave

• Legaspi, Philippines
28 Feb 13
Yes, you are right. What is important is the knowledge that I gained from this particular activity. Have a great day!

• Philippines
27 Feb 13
That's really great. Going to places for the first time. I had gone to a mountain resort in another place within our province here in Mindanao and it was really a great experience. We went there on a sunny day but we can still feel coolness in fact we were wearing jackets. But your trip is more valuable because you have projects for those barangays that you visited.

• Legaspi, Philippines
28 Feb 13
Hi pahak! Wow! That was also a great experience that you had. I am also happy with this activity that we had because aside from the wonderful experience, I also got to know other employees of this place and also other people from the barangay. Thank you for sharing!

• United States
27 Feb 13
Wow, that's a tough one. But since I go mountain climbing with my friends, I can totally appreciate the feeling whenever we see beautiful sceneries and the feeling of accomplishing something after a hard days' travel. Although i have to say that your reason for climbing the mountain is better than ours.

it is indeed nice to have a diversion from the usual office grind to perform other duties like this related to your work. You might be sore for a couple of days but its all worth it.

• Legaspi, Philippines
28 Feb 13
Hi raine! I think my body is still aching as of this time. Yes this activity forms part of the monitoring of projects that were awarded to some beneficiaries of the place as one way of alleviating poverty in certain areas. Thank you for sharing!

• Philippines
28 Feb 13
We need to walk, we need to climb and we need to cross a river. it reminds me of my parent's hometown. it's so far away, but you have everything, unlike some places where you only see ricefields. hahaha! i bet you were strong and active when you were still at your grandfather's farm. that's why regular exercise and warming up is important so you don't feel like you were run over by a bus afterwards. a warm shower and painkiller helps. speaking of buses, my mylot dream is to get on a bus one day and visit you and simplyd.

• Legaspi, Philippines
28 Feb 13
Oh that is so touching, hereandthere. I hope your dream comes true. Don't worry if you will come to our place, I will bring you to the the Whale shark capital of the world. Actually, our place has many beautiful places to see so I'm sure you will enjoy it here. Thank you for sharing!

• Philippines
8 Mar 13
i'm sure you and simplyd will be very warm and welcoming, but please don't take me anywhere expensive. i'm not rich! hahahaha!

• Indonesia
2 Mar 13
Wow, it sounds like a great experience! I have climbed the mountain as the high school trips, I can say that it's soooo tiring. Actually many female students faints because not have enough physical strength, but it was a new and fresh experience above all. Yes, mountain climbing is very tiring, I knew it from the experience. So I can see why you have legs and back pain after.

• Legaspi, Philippines
2 Mar 13
Hi randomarts! It was a rewarding experience for me. Actually we have another schedule for monitoring on the 5th and I don't know if we will be having the same experience again. Thank you for sharing!

• United Kingdom
27 Feb 13
Visiting the mountains must have been very exciting and enjoyable. I have climbed three mountains in my lifetime so far. I was aged 18 years old when I climbed a mountain up in Norway. It was misty on the top of the mountain at autumn time. I was aged 20 years old I climbed Mount Warning in Australia. Getting to the summit there were sharp rocks. At the top I saw a stunningly looking view. When I was aged 29 years old I climbed a mountain in New Zealand. I had a rushed time getting back down due to the hostel manager below waiting for me. We carried on to Smuggler's Cove in the afternoon. It was a charming day out. Have a fantastic day.



• Legaspi, Philippines
28 Feb 13
Hi maximax! Wow! That was a great achievement you have there. I am looking forward to our next monitoring activity although I am not sure if we still have to climb mountain again next time. I had a great experience out there something I will not experience inside the office. Thank you for sharing!

• Philippines
27 Feb 13
It sounds really tiring but enjoying as well, sort of adventure as well. I climbed into mountains before during camping and jamboree in schools that I used to attend too even though I am the smallest in the boys. I always enjoy this kind of activity adventure maybe cause I am really hyperactive. I alway love exploring nature and like to walk and walk especially before.

• Legaspi, Philippines
28 Feb 13
Hi ardoy! Yes, there are also hiking activities for students in some schools. I'm glad you were able to experience such activity. Well, our activity was part of monitoring of some projects. It was a rewarding experience. Thank you for sharing!

• Israel
27 Feb 13
I guess that your first experience. In my area their are some very high rocks, I can remember a time when my family and our family friend went to have a get together on one of the high rocks. Climbing can be very tiring, but when you get to the top you feel the cool breeze.

• Legaspi, Philippines
27 Feb 13
Hi friend! I used to go to my grandfather's farm when I was younger but when I stayed in the city and have my own work, I was not able to go there. Yes I'm glad to know that you also experienced climbing in high places. Yes, it is one kind of accomplishment. Thank you for sharing!