Mother cried in front of my home because her all puppy are died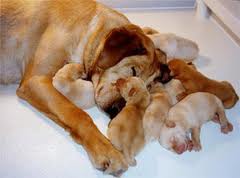 India
March 24, 2013 5:40am CST
Last night a doggi born 4 puppy in sand behind our home today morning when I wake up and heard the voice chiu chiu then saw ohhh God child are crying I cant understand what should I do? because now the summer season is start and sand is very hot in afternoon. Suddenly at 1pm the doggi came in front of my house and crying I feel she feel hungry so I serve the chapati but she not eat and cry then I say to my hubby please lets go we should see the puppy because now hot time and may be some problem. When we reach there then all child was died. I cried and feel ohhh God if I can pick up in morning and put other place from sand but someone says me doggi may bit you. I not understand why she not choose other place other than sand. The main thing is she was crying in front of our home but when we both reach the place where her puppy died then she keep silence means she want to show us her puppy is died. Even the mother is animal but she understand and feel are same like human if her child is not live. Do you have experience of this any doggi crying in front of your home and wants to showing her child are died.
5 responses

• India
24 Mar 13
Surekha beti

Thanks for sharing. Always remember, dogs are more human than us, they have a very very kind heart not only for the puppy but for the owner. You are aware of some modern day guys and girls; they don't have any respect/regards for parents, family members.

Are they not worst than the dogs?


• India
25 Mar 13
Yes uncle I fully agree with you really they are innocent(wafadar) not only for their puppy but for owner also. Some time dogs proof this they are really more helpful than human. Nice response thanks for it.


• United States
24 Mar 13
That is really so sad and heart breaking as well. I am sure the mother was so deeply hurt because she loved her young. Maybe she never realized about the heated sand. and I am glad she did not bite you coming near to her children.


• Malaysia
25 Mar 13
Poor mama doggie. I feel sorry for it. I hope all the puppies have gone to heaven.


• India
25 Mar 13
My FIL was also saying same they leave their body but they will get good janam in next janam. Means may be they will born as human in next janam. But we all are feel bad think ohhh God why not apply mind and come out all child from sand before dying.


• India
25 Mar 13
You are right sir mother's feeling are same for their child even they are animal or human. We serve daily 3 times food to the doggi.