Meet my duck Rupert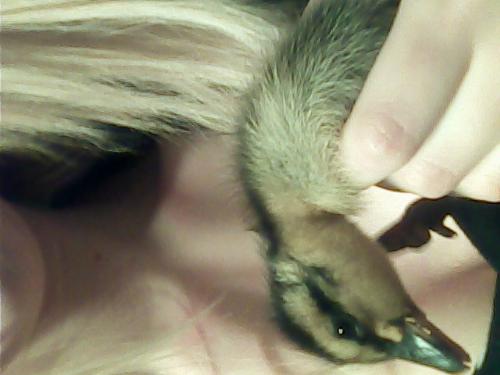 United States
March 25, 2013 12:44am CST
Last year my grandfather gave me egg's from his duck's to hatch my own duck's.It was my first time hatching ducks so out of the 6 egg's he gave me only 3 hatched.I waited 4 more day's after the hatching date to get rid of the remaining egg's.As i was about to toss the egg's away i saw a small hole so i put them back.the next day a duck was almost out and had the egg shell still attached i wet the egg and he broke loose. I gave him time but unlike the other's he wasn't walking within 24 hour's.I took him out and noticed his leg's went side way's.He was trying to hold on by attempting to walk or hold himself up against the sides of the incubator.I looked around online and found a site and posted about him.The people on the message board told me it would be best to put him down.I could never do that and as i looked into his little eye's i couldn't help but be upset about him.I found a website which talked about splayed leg's in chicken's (where the chicken's leg's go in different direction's from being in the egg too long)I followed the instruction's and tied yarn around the duck's leg's to keep them together three time's a day and helped him drink and fed him his food soaked in water.He grew attached to me and loved coming out of his pen.He would wake me quacking to be fed or held and i would give him a small bowl filled with water which he played in. About two week's later he was walking on his own just as if nothing was wrong with him.My mom told me he was a miracle duck since she didn't believe he would make it. Eventually i put him outside with the other baby duck's and as soon as i did he ran to them. Rupert is still alive doing well today.He also sill loves to be held and hand fed.
3 responses

• India
25 Mar 13
Wow, m so happy to hear about the present condition of Rupert. I know u must have been upset initially when he was struggling and to be very honest, u should be thankful to those people who helped u online. Without their support probably it would have been difficult for him to survive. anyways now since everything is alright, i hope he stays healthy ahead.

• United States
25 Mar 13
Thank you, I am very grateful i found the site that helped me.