Special gift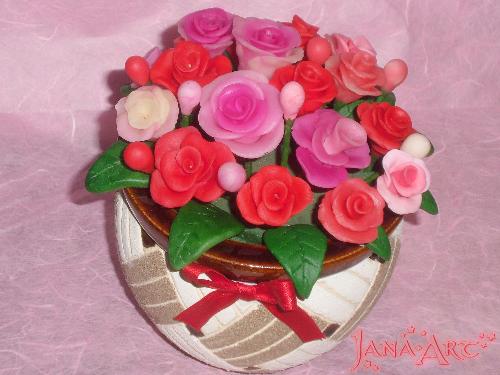 Italy
March 26, 2013 2:59pm CST
I created this posy for my mother who loves these kind of items. After I bought the vase in a super market, I created the roses with the cold porcelaine. A dough made with miaze flour and vinyl glue. It looks amazing and I made another one for Christmas but with blue glittered roses. :) Since real flowers die, this is the right solution to have amazing roses all the year!
4 responses

• Chile
27 Mar 13
THe vase and flowers is very beautiful. You are a good craftswoman and a better daughter. I bet your mother loved her gift.


• Chile
28 Mar 13
THey are very professional looking. Maybe you should sell them.



• United States
27 Mar 13
I am sure that your mom will love this. I am going to buy my mom a Easter Lily plant on Thursday and take it over to her house. She looks forward to getting a plant every year. I love the porcelaine flowers and will have to learn how to make them. I have a lot of silk flowers that are left over from my wedding almost 6 years ago and am looking for things I can do with them.