…is that a sheep?

Philippines
April 5, 2013 7:14am CST
I guess the hair cut was very necessary. It's summer in my place and I thought it was very not good reason for a dog to be burdened with extra heat with his very long coat I decided to give him a cut along with a cousin and we ended up with a cross between a sheep and a poodle cut. The family didn't really mind the transformation since it was a good way to see the dog in another hair form. However, I was walking him one day when someone pulled me over and ask me if I was walking a sheep. Or maybe due to his size, a lamb. I got a laughter from me since lamb doesn't have tails and they don't bark. But then again, anyone could have mistaken him for a lamb when looking at him at first glanced. At least, he sported a new look and still look cute.
2 responses

• Romania
6 Apr 13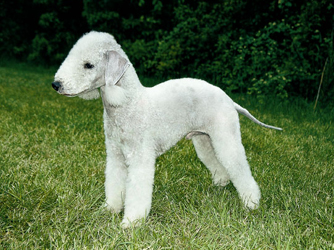 It is great that you managed to cut his coat. Now you'll be able to do this from now on, you won't need a hairdresser to do this for you. I wonder how does he look like. A lamb?

You could make him look like a lamb, you know? There is a breed called Bedlington Terrier that has a specific haircut that makes them look like lambs. Here's how they look:

• Philippines
7 Apr 13
I did it with the help of an aunt and a cousin. Truthfully, I'm still kinda reworking the cut since I didn't expect it to come perfect the first time around. But it beats a professional haircut and saves me quite a sum and a trip to the vet. I guess we kinda made him look like a lamb but then again, lambs are also cute by any measure.

• India
5 Apr 13
haha even my dog looks like a lamb after haircut that i give her. Sometimes becomes the reason for a nice laughter:-) bt it doesnt matter to her and at least she feels much cooler in summers after haircut. Moreovr her hairfal problem gets minimized

• Philippines
7 Apr 13
It is a great cause of laughter and surprise. Everybody was wondering where the dog was and why is there another animal in house. Now, everybody wants to call him Lamb or other related terms. They got over the surprise and they tease my dog of 'transforming' into another animal.