Facts about Shri Ram Setu & Setu Samanduram Project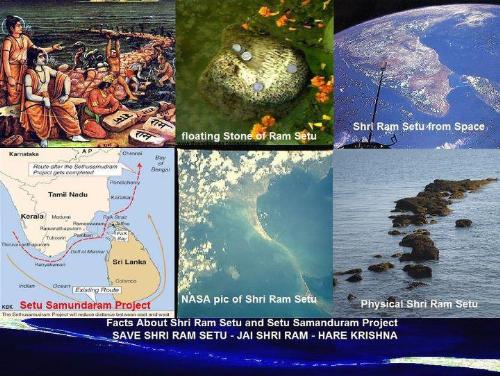 India
April 12, 2013 6:44am CST
The Centre has decided to reject the RK Pachauri Report and go ahead with the Setu samudram shipping channel project cutting through the sacred Ram Setu. A decision that could once again make it the target of multipronged attack from environmentalists, religious groups and political parties. We are the only country in the world with thousands of years of old heritage and the Govt/congress is trying to destroy each and every thing possible. Rewriting the history, destroying architectures ( by either demolishing them or by not taking proper care and letting them perish ), degrading the feeling of pride and self-respect about one's nation, promoting videshi an insulating the coming generations from their very own past - this is what they are upto from 1947 ( and before ) I guess Ram Setu is the pride of our nation. It is one of the Architecture marvels of the world 7000+ years old. 100 Years old things are heritage for other countries while thousands of years older things are nuisance for our Govt/Congress !
3 responses

• Canada
16 Apr 13
It is a just a shame that our country is being run by an Italian waitress. It is to a point that these people have lost the conciousness about what they are doing. If we destroy the mecca, or the churches in jerusalam, there would be an OUTRAGE in the world. but this government cannot even stand up for their own pride. If 2014 still brings a congress government, there is absolutely no hope for india as a nation. Bharat Mata ki Jai!

• Adelaide, Australia
15 Apr 13


Is that your world-famous Dr Rajendra Pachauri? Ignore his reports at your peril, oh politicians! It's almost made me mad enough to go to your country & protest. This sort of destruction & greed in India affects the whole world & not just India. Welcome to MyLot.


• India
19 Apr 13
Welcome to mylot Mr. Mathur

. see my discussion--- http://www.mylot.com/w/discussions/2764920.aspx?p=0 Thanks for this nice discussion