Using internet 24*7 does cause health problem...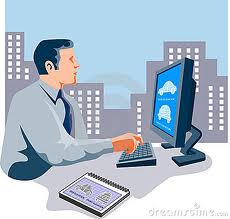 India
April 18, 2013 5:15am CST
Hello, I am working in System Integrated Company. I am Senior System Administrator. So i am always working on Internet, without internet i feel i am handicap, i am working 24*7 on internet. After working whole day i feel very lazy, sometimes i am suffering from neck problem, finger pain problem and also suffering from back-pain. I am seating for almost 8 to 9 hrs continuously on my chair, this is the main reason for my laziness. Even i have gain some weight due to my office work. now i need some suggestion how can i take care of health while working 24*7.
9 responses

• Indonesia
18 Apr 13
Wow, you should really reduce your working time I think, or you just take a plenty of refreshing walk, just around your work space. It can give relaxation to your bodily stress.

• United States
19 Apr 13
Working on a computer 24/7 (witch i doubt you do but i get the point.) can lead to blood clots. If you are on it late and you do not get enough sleep that can lead to way more problems that most people think. When you are sleeping your immune system heals and if you do not get enough sleep you can get sick more often and more frequently. It can also lead to weight problems. When you are sleeping you hormones do something that makes you do not eat junk food.

• India
18 Apr 13
I don't have any suggestions to you but before using computer for 24*7 Check the below link... about Musculoskeletal Disorders... http://www.microsoft.com/hardware/en-in/support/healthy-computing-guide There may be many other problems... Keep in mind, You can enjoy life only If you have good health... Self-control is the only suggestion to you from me...

• India
18 Apr 13
Don't work continuously, you can take a walk every half an hour. seating continuously cause you back problem and even eyesight problem also start if you watch your computer monitor continuous while working. i suggest you to take some rest while working and also start looking around while working. Take care ...


• United States
18 Apr 13
I work on my computer here at home, but I take me a lot of breaks I am gain some weight to because, I am take my lunch breaks here, at my computer when I should be going out for a walk, and losing all this weight everyday, so looks like I will be leaving my computer everyday, during my luch break, so I can get this weight off of me.




• Legaspi, Philippines
18 Apr 13
Hi ajay! Too much of anything is bad. Use everything in moderation. I could say that I am also working with my computer almost everyday and yes, sitting in front of it for a long time can cause pain on every part of my body. So we have to take a break from time to time. Have a wonderful day!

• China
18 Apr 13
I think you should take some exercise outside. You can breathing in fresh air. It is very healthy. If you don't have time to go outside. You can buy a running machine if possible, then you can run at home to save more time to do your work. After that, you can eat more fruit and vegatables, health is the first thing of human being. The work is endless, just put it down for while.

• Indonesia
19 Apr 13
24 x 7?

What about the weekend? I am pretty sure that you actually have some free time when you don't need to be in front of your computer. Use that time wisely to recover.

Or if it is possible, try to rest every one or two hours between your jobs. Five or ten minutes should be sufficient enough. Use that time to do a little exercise and don't forget to hydrate yourself well.