Is revenge fascinating?

Canada
April 18, 2013 7:31am CST
There are many revenge movies which become very popular. I cannot help wondering why. How is it that revenge appeals so much to people? Why this fascination? Is it that in our hearts, we want t take revenge on somebody? Is that why we like to watch such movies? In reality, the thoughts and plans of revenge drain man's energy. They make the mind highly negative. Our vengeful thoughts prove fatal to us and such thoughts only hurt us and not our enemy.
3 responses

• Philippines
19 Apr 13
It is a part of human nature that we have this feeling of getting even when we felt we are wronged or abused. the question is, are you brave and strong enough to carry the plot against the person who caused you pain? I am guilty of that too. Sometimes I cannot help thinking to let people feel the bad things they caused other people but of course not to the point hurting someone physically. May be some people are fascinated by it depending on the gravity of pains and sufferings that they had experienced.

• Malaysia
19 Apr 13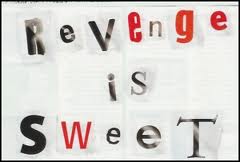 I guess it more of evil and animal instinct in people who seek revenge. I guess when people are hurt back , it automatic response by lashing out in revenge to assert the same or more damage to the other party. Not many people have the ability or the resources to take revenge, hence form the fascinating idea of revenge one day. Another is the hollywood has a power to incite a image of fantasy thorough it movies and celebrities too.

• Romania
18 Apr 13
it's not about why are we watching and enjoing this kind of movies, it's all about our mind. for example, everytime when we are hurted by someone, our first thought is how can we hurt him/her back, just to see for themselves how it feels. but in reality, the ones who are punished are us. we don't realise that the revenge isn't a solution. these movies are made just to entertain, but people are inspired by them sometimes and the worst thing is they can apply the bad treatments from movie in real life, just because they think: it's at Tv, it must work! unfortunately, violence is the most wanted subject...