I feel blessed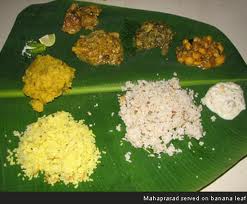 India
April 27, 2013 2:26am CST
Yesterday I started a discussion about 56 kind of dishes offered to God Jajannath in Puri temple----- http://www.mylot.com/w/discussions/2766672.aspx?p=0 This morning son of one of our renter, when had gone Puri, visited this temple brought 'MAHA PRASAD'; not all 56 types though, he distributed this to all neighbors too.

[b]All in my family ate it keeping on plantain leaf; we felt blessed; as if He sent it for us.

It is such a wonderful feeling. Have you ever faced something like that? Please respond comment.[/b] Thanks in advance. Professor Dr. Bhuwan Saraf. PhD. April 27. 2013. Cheers have a lucky day ahead. [i][/i]
2 responses

• India
27 Apr 13
I have never been to Puri's Jagannath temple myself. Last year my mom and dad visited Jagannath temple after celebrating Durga Puja in Kolkata i.e. on their way back to Hyderabad from Howrah. On many occasions many of my friends and relatives have shared PRASAD after returning from Temples like SHIRDI SAI BABA Temple in Shirdi, Belur Math in Kolkata, Dakshineswar Temple in Kolkata, Kalighat Kali Temple in Kolkata, Tirumala Venkateswara Temple in Tirupati etc. Surely we feel blessed when we get the PRASAD, thinking that god has sent it for us.

• India
27 Apr 13
Anubrata I am lucky to have visited kali temple, Saibaba temple, Belur math, almost all temples in north india and south india, i really feel blessed.

• Philippines
27 Apr 13
hello professor, I always say to myself, "be happy with what you have and feel rich with what you get. because not everyone is blessed with it". after church during sundays, I buy food which are not usually cooked at home but there on the little stores near the church. I bring some of it to mom and sisters and we feast on it.

sharing and seeing the smiles on their faces is so nice. but what makes me feel more blessed is my family. I see other families with all food on the table yet they are not on speaking terms, or they don't partake of it all at the same time in one table, or they have ill feelings towards each other.

we both are blessed with wonderful and totally close knit families. really a blessing. have a wonderful day. ann


• India
27 Apr 13
Honey

We should be happy always, no fights, no quarrels with any one not even the neighbors.