Solar Panel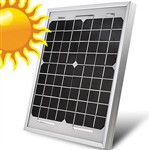 April 30, 2013 3:26pm CST
I have not been using solar, but I understand the benifits of solar. I am hoping to get one for my personel consumption. Hoping to reduce electricity bills. A cheap panel for few lights and tv and some othere electronic uses like eg laptop, charger. I just saw a panel for 10wattes only costing price is about $50. Anybody have been using it. What power and the price. Please share your experience here for my guideline. Thanks
2 responses

• Calgary, Alberta
30 Apr 13
I am saving money to have one because I want to be free of electric bills and I want to help mother nature but Its around 300 thousand pesos in my country and my bank account currently is 300 thousand pesos. I will lost all the money I have if I will buy one. Maybe if my bank account reached 500 thousand, I will finally buy one and be free those damn bills.

•
1 May 13
Yes very great idea and touching! I don't how much is in us$ for 300 thousand pesos. What is your country. Im in Malaysia. I understand China have a lot of solar panel. Once I was in Cambodia. A panel about 1 feet x 3 feet almost $100, It need a car battery, can use for TV also. It is a good idea for energy and money saving. I am still looking for one below $100. If you can afford dont think of losing the money, make a calculation how long will you get it and the bill you're facing. Sincerly give out first, latter you may get it. Because of your pure and good action Give, who know once you give , you get 300 thousand back, may be your good luck is coming - like job promotion. luck draws. Dont worried aboutthe money. Make a decision, dont let the bills trouble you. Thanks for your respond.

• Philippines
26 Jun 16
Yes. Solar power is an alternative way to use power electricity. It's expensive though you will enjoy the benefits in the long run.