great meal on a HOT day...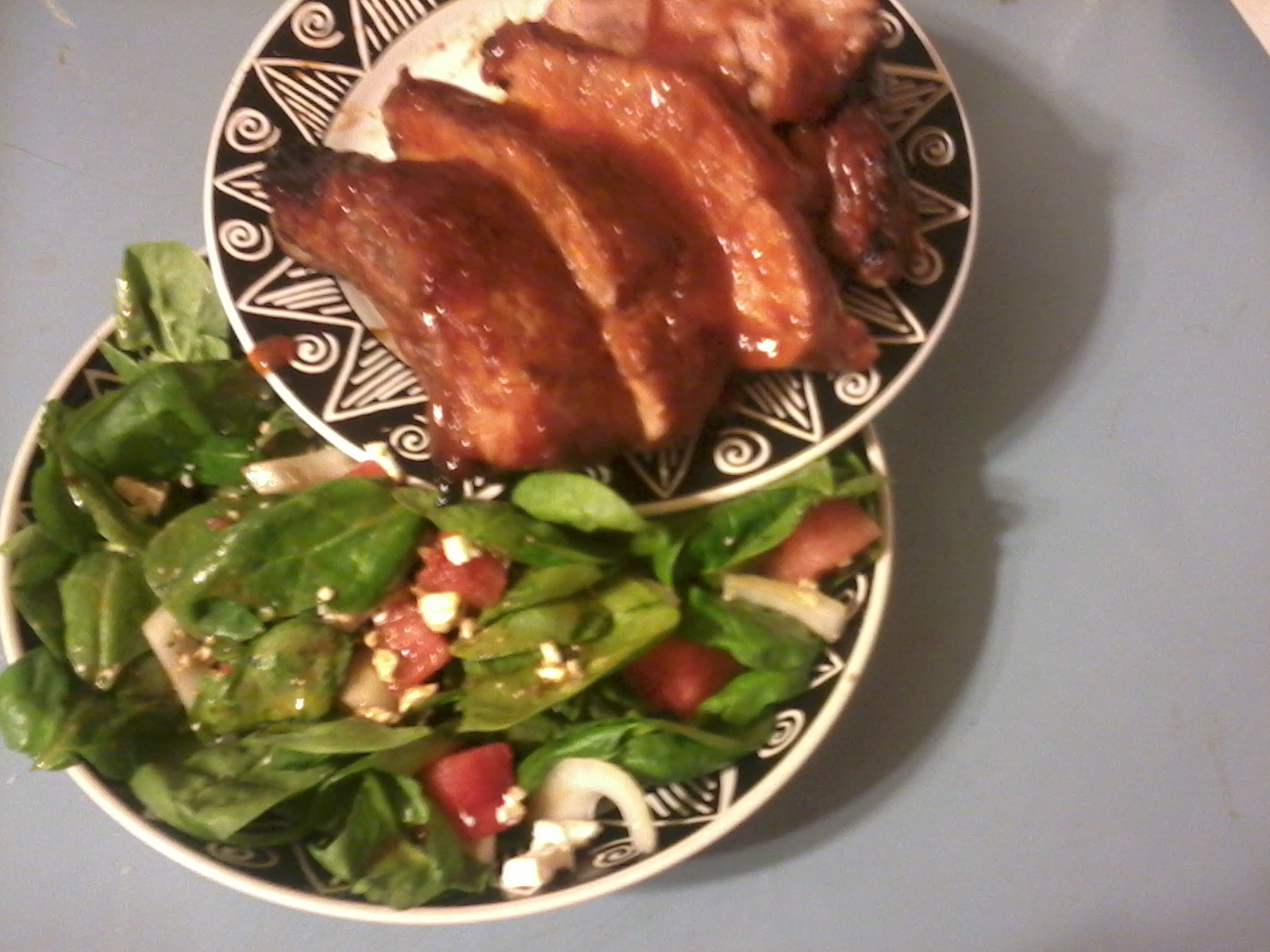 United States
June 2, 2013 7:37pm CST
If only i had been able to do these ribs on the grill instead of in the oven.....but alas.... This was dinner tonight...pork ribs marinated and basted in a red apple bbq sauce....cooked low and slow so they wound up "fall apart" delicious.......and a salad of baby spinach, diced watermelon, sweet onion and feta cheese with a home made balsamic vinegar dressing......sooooo yummy.....the ribs were tender and sticky sweet with sauce....the salad was cool and refreshing with a bit of zing from the dressing.... what are some of your favorite hot weather recipes? ones that don't involve a lot of roasting and boiling on the stove to save from heating up the house....
5 responses

• Columbia, South Carolina
5 Jun 13
Those ribs looks great!! I love ribs, but do agree that they are best on the grill. I like to make a lot of chicken during the summer thought. Cutlets are super easy ans if you pound the chicken thin enough then you won't have to cook them too long on the stove. usually about 2-3 minutes on each side. Also, you can add whatever seasoning, and spices you want. I usually use canola oil, because I think it makes the cutlets crispier!

• Philippines
4 Jun 13
i will try the salad also. did you buy the red apply bbq sauce or just made it yourself. can i use chicken instead. anyway, i just hope that i would do it right . there are lots of things i need to buy first time if i would follow that. like the spinach and the balsamic vinegar and also the feta cheese. would love to eat a very sumptuous meal also like you do .

• United States
5 Jun 13
the BBQ sauce i actually bought......(generally i like to make more stings from scratch, but i didn't have all day to cook down apples and tomatoes and spices LOL)....and it would be AMAZING on chicken...actually have used it on chicken before and it is really yummy.... The salad is amazing...any fresh fruit with feta cheese and spinach and a nice balsamic vinaigrette (either home made or store bought) is just so bright and teasing to the taste buds.

• Kolkata, India
3 Jun 13
ur platter luk's so yummy N mouth watering. me2 had pizza (Dominos) flat 50% off.gr8 deal huh

• United States
4 Jun 13
Oh, take out pizza is always good as well....but i have gotten really into trying to make my own meals (at least at dinner time....while at work it is much easier to eat "fast food"/take-out or prepared foods......but i like to make my ow dinner when ever possible, and incorporate lots of yummy flavors and as many veggies as i can...

• United States
3 Jun 13
I'll tell you what, even though I don't eat red meat or pork, I am drooling over the baby spinach, watermelon, onion, and feta cheese AND the homemade balsamic dressing.

I'd say that's the perfect hot weather dish! I don't really have any favorite hot weather recipes or any favorite recipes... period, since I'm not real big on cooking. The recipes I like are the ones other people make.


• Wenzhou, China
5 Jun 13
sounds delicious. But what i wanna say is that In summer,I like ice-cream cones popsicle and fruit salad.(LOL^_^)