Which is the biggest land animal?


Philippines
November 22, 2006 11:25pm CST
The African Elephant: Is the largest living land mammal, found in tropical regions of Africa and Asia. Elephants have massive bodies and heads, thick, pillar-like legs, and broad, short padded feet, with toes bearing heavy, hoof-like nails. The gray skin is loose, tough, thick, and nearly hairless. The slender tail ends in a tuft of hair.
3 responses

• Philippines
24 Nov 06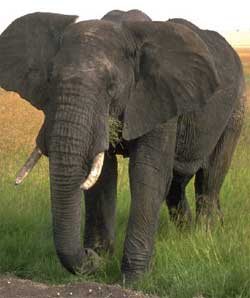 that would be the elephants. African elephants are the two species of elephants in the Loxodonta genus, one of the two existing genera in Elephantidae. Although it is commonly believed that the genus was named by Georges Cuvier in 1825, Cuvier spelled it Loxodonte. An anonymous author romanized the spelling to Loxodonta and the ICZN recognizes this as the proper authority.[1] greetings. : )


• India
23 Nov 06
Yup ure right ..African elephants are the biggest land animals