This is one of the many ways I earn online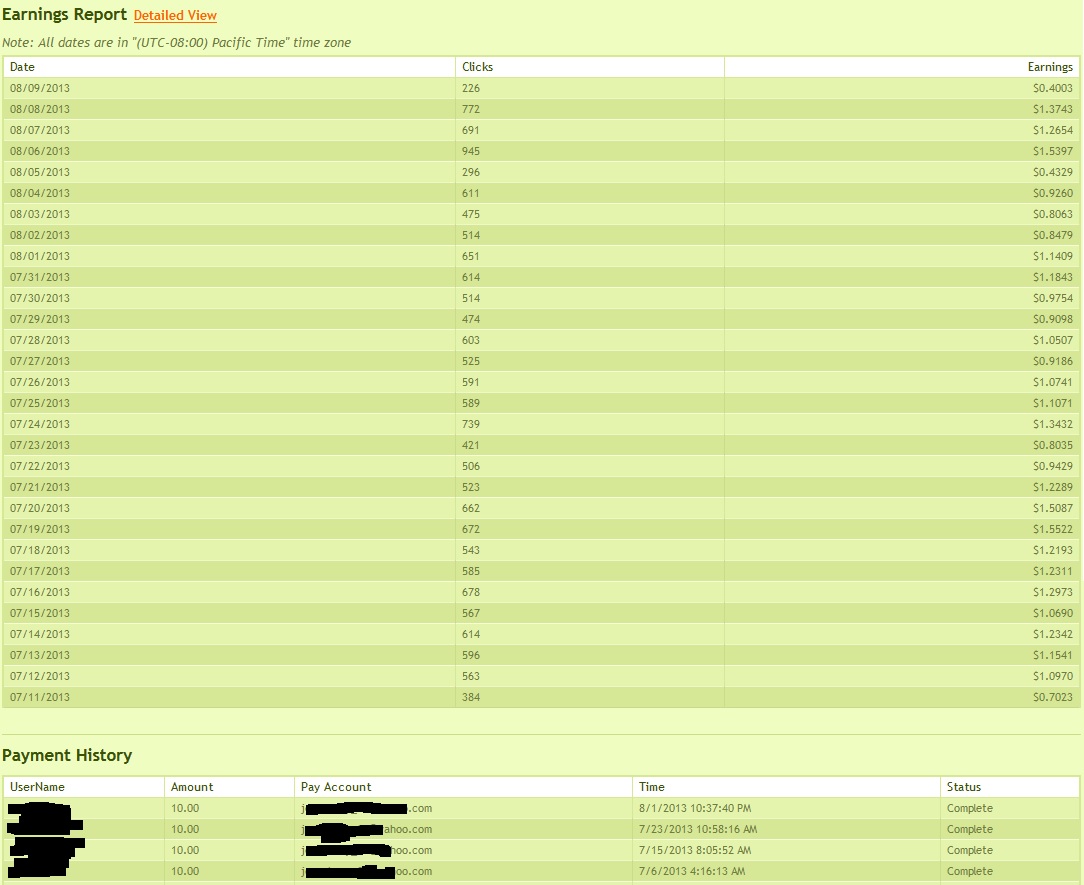 Philippines
August 9, 2013 9:48am CST
I have a blog and in my bog I have many ways to earn if people visit it. I don't use adsense because they have strict rules(google). I use linkbucks and image hosting sites to earn from my blog(sometimes I use adfly too) All the sites that I use are all legit and paying on time and they are completely free to join. I tell you it is not easy to earn online because many people are getting scammed everyday, giving too much effort on a certain site and earn few cents or doesn't earn at all. As an experienced individual all i can say is that before you try joining a site for earning money make sure you made a thorough search of the site's history and read some people's reaction about them.
5 responses

• Pakistan
10 Aug 13
Dear you need to send your link . Please also visit my blog and give me suggestion to improve it .

Fashion Cactus is all about fashion,Style,beauty Care,Men ,women clothing .

• Jinan, China
10 Aug 13
Can you give me a link to your blog site~~I want to learn something~~

• Pakistan
11 Aug 13
Please share the link we check it .I have one blog .Please suggest me to improve it

Fashion Cactus is all about fashion,Style,beauty Care,Men ,women clothing .

• Gurgaon, India
10 Aug 13

• Giza, Egypt
12 Aug 13
You are right,I tried all this but little earning till now I tried this and earn $21 in two days and just getting started Download this FREE book (how to make money) and check out this page

You can safely lose 3 or more pounds a week at home with a healthy diet and lots of exercise.

• Bucharest, Romania
26 Dec 13
Did you ever imaginated did you can make money from playing games? It is posible now, there are lots of games that offer you the posibility to exchange vitural currency in real money. I tryed most of them and the best, in my opinion, is marketglory. Marketglory is a browser-based economy game, where you have options like: fighting, participating wars,creating companies to sell products, working, getting bonuses for your refferals activity. It is easy to play and only takes a few minutes a day. Also free to play- of course, you have the posibility to invest if you want. Register now here: and I will help you with guides and free products, for a better start. Join our most than 30.000 players community now and start making money by having fun!

MarketGlory is a strategy game, economic, political, social and military strategy game, in which you have possibility to convert your virtual currency into real money.