Fruit salad with chocolate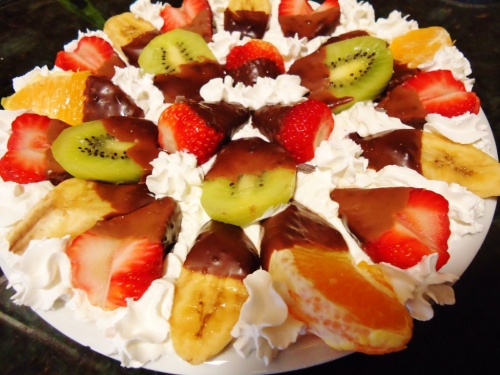 Bucharest, Romania
September 16, 2013 4:23am CST
Fruit salad with chocolate is a delicious dessert prepared from five juicy fruits, arranged in layers, like some rose petals. Chocolate fruit salad is seasoned with a delicious cream sauce and sprinkled with grated chocolate. You can use more but I chose six fruits: plums, apples, bananas, oranges, strawberries, kiwi. We have chocolate milk, sour cream, mayonnaise sauce. Apples, plums and strawberries, wash, wipe with a tissue, then cut into slices; Bananas, oranges and kiwi peel, cut into slices, then into four parts; All cut fruits are placed in layers, like some rose petals, season with mayonnaise and sour cream sauce, sprinkle with grated chocolate. PS: Sour cream can be replaced with yogurt, powdered sugar and chocolate.
4 responses


• Bucharest, Romania
17 Sep 13
Not a bad idea .... I think it is very tasty!

• Kampala, Uganda
16 Sep 13
Thanks looks nice.I like learning new recipes. l will learn more and try it out

• Hungary
16 Sep 13
Try this out, you'll find it rewarding...It doesn't give you instant millions, but it truly builds and its for real.

Everyone is Welcome! Anyone can Join! Instant Account Unlimited Job Positions! No Experience required! Setup and Money Making! 31/08/2013 Paid :       John Bernardo ( 2100 USD )       Salah Opran ( 1620 USD )       Raj Kapur ( 1896 USD )       Jems usranad