An Unspoken Letter

Baguio, Philippines
September 23, 2013 8:03am CST
Dear Mom and Dad, I know I'm not good enough to be your daughter, I spend most of my time outside and when I'm home, I'll just finish my school stuffs while busy doing things on my phone. Perhaps because there are times when I feel lonely inside the house. Being an only child has its perks but most of the times I do feel its disadvantages. I merely feel happy and full when I'm outside, perhaps because I have someone to talk to, having the same interests with me. It makes me feel better and pushes my stress out. I usually crumples my face when you're pushing me to do house works when I'm finishing my school works. Sometimes I just feel so tired and yet I'm thinking why do I need to do the house works, and a sudden idea will pop out of my mind- I'm your only child. Who would do those things aside from me right? Besides, all of us are tired. You are because of your work. I am because of the school. But I forgot, working 8 hours a day or even more is a much difficult task than studying. I'm sorry. I don't usually answer your questions when you're mad, please bear me with that. But not because I'm not answering means that I don't care at all. Not because I'm wearing a blank expression means that I don't mind if you're mad or not. I'm just trying not to worsen the situation because I know that when I speak, we'll have a longer argument and deeper misunderstanding. I'm trying not to argue with you because I know that it'll stress you out. I'd prefer you to misunderstand me than to hurt your ego because of my attitude. I am expressive towards you but not with this matter. I'm thinking if this is reasonable enough for you to understand me. I guess I have my point and I surely have my mistakes too. But whatever it may be, I thank you for still patiently raising me up until when you can. I love you.
3 responses

• Malang, Indonesia
26 Sep 13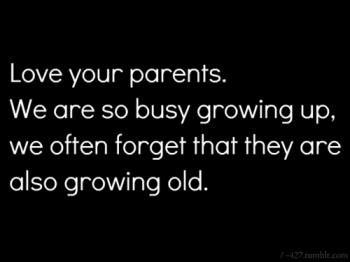 Well, I'm get touching for about your words. By the way, I'm the only child too :) And responding by the statements you said, you're right. Being the only child must have a good-side and bad-side for us. The good-side, sure, our parents's attention is fully given to us and we don't need to share with our brother or sister when parents give us something we love. The bad-side, parents would be so over protective and sometimes force us to be whay they want in case job condition because we're the only child they have. But trust me, everything they do is for our good. Ya, I know, we're teenager, it's so hard to pay attention and not screaming when they say something that we're not agree. But trust me again, when you grow up, when you already had your own family, you gonna know the reason why did my parents did it :) you gonna miss their noisy and horrible voice when they give you so much advice and housework. And when the moment come, you gonna think 'can I back to the past'? :) greetings for your family sweety!

• United States
24 Sep 13
I am sorry and I feel your pain. Please check out the link below, and maybe you will be able to find something that will be of help to you. I think that this is a beautiful letter, and I like the choice of words you use, and the way you expressed yourself. I think you are quite beautiful inside. The link below gets updated with other posts, as more posts are added to it. Have a wonderful day.

Skip to search. Preview Mail w/ Yahoo Toolbar Yahoo Contributor Network Search Search Web Verna enjoys the outdoors, and going for nature walks. She prefers the use of natural remedies instead of prescription drugs, and believes that it is better to preven

•
24 Sep 13
I was touched by your heart, the parents are everything, the spirit for you, Greetings