Magento or BigCommerce: Which one is better for Startups?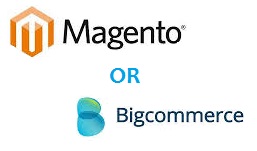 Ambala, India
February 24, 2014 4:53am CST
E-commerce has redefined the whole shopping experience for consumers and brands alike. At one point in time, you would have to find the various brands, their outlets and, the areas where their outlets are in order to shop for the perfect stuff. But, with e-commerce, you just need to enter the website, choose your segment, and choose the brand and, all that with just a click. This simply means, shopping is just a click away. To create such an exciting and incredible shopping experience, an interactive online platform is a must that gives you basic features to be able to interact with your shoppers. Most e-commerce platforms have a shopping cart type getup which consists of wish list, add to cart, the various products, their pricing details, account details, past orders and, payment modes. Most e-commerce sites have the PayPal facility as it's basic. But, then there are other medium of payment too available with different online platforms. E-commerce currently operates on various online platforms of which Magento and BigCommerce are considered to be major platforms. Here's a comparison sheet between these two e-commerce giants in order to understand how they differ and, which is useful when. BigCommerce: An Analysis If you are a startups wanting to set a hassle free shop immediately, then BigCommerce is the perfect platform for you. This is an easy to install and run type of shop. You won't need a developer's interference with your shop and, you can keep adding products as you need to this shop. The experience of running a shop on BigCommerce is undefined. You can make tailor-made shops without knowing any coding language. Now, that's a real advantage of using this platform. The inbuilt themes are not really a heart throbbing but, then you can always customize these themes according to your shop needs. You can allow people to ship their products globally and, attach shipping charges if any. This platform uses HTML and CSS for customizing themes and other details. Of course, the third party app support is pretty negligible when compared to other platforms. The inbuilt themes are not really great so, you won't enjoy seeing them. Customizing using BigCommerce is quite a complex task. But, the brighter side is it supports various payment gateways. Another very distinctive advantage about BigCommerce is that it is comparatively less expensive than Magento making it advantageous for startups and small businesses. Hosting a site on BigCommerce is pretty secure and, won't really affect your system much. In fact, your data remains secure on this platform at all times. Yes, you can say this platform does give a tough competition to Magento. Magento: An Analysis One thing you should remember is that both the platforms were introduced by SEO experts and, hence you will find that both the platforms are absolutely tuned towards SEO. This is a feature rich platform that integrates well with third party applications. You will find a variety of third party plugins too on this platform. It's partnership with eBay has proven fruitful to this company. This partnership has led to exclusive front end and back end support being provided by the company to its customers and clients. One thing that you need to bear in mind while using Magento is that it is a complete e-commerce platform! The huge amount of templates and ease of use it provides will prove this thing to you. It is customizable and, you can create a store that matches your needs. Of course, the customization and set up of this store is slightly complicated. Hence, you may need professional developers to help you with it. You can define coupon codes, discount coupons etc. with this. Even though BigCommerce is feature rich, it does not really support heavy business set ups and, numerous products. It is best suited for heavy shops that have unlimited products. The investment with Magento is slightly higher when it comes to the enterprise version. So, it is not really recommended for startups. The Conclusion You are now aware of the differences and the similarities of both these platforms. Both are pretty good platforms that provide stable e-commerce operations. While Magento is a complete e-commerce platform, BigCommerce is feature rich. You need to choose the kind of shop you are setting before you choose the platform for the shop. If you are planning on a small shop or a startups, you should consider BigCommerce as it is easy to set up and, eventually saves a lot of money. But, if you are a big retail outlet, consider using Magento. It would be slightly expensive but, would detail your store perfectly. Now choice is yours to go with Magento or BigCommerce... Thanks! For Magento Web Development, Read more:

Developed 500+ Magento eCommerce Website, We've certified and expert Magento Developer team. Get bespoke customized web store solutions.
1 response

• Ahmedabad, India
26 Feb 14
You are right tejas magento is the perfect CMS to develop eCommerce website.