Mighty Black Adam as Dwayne Wade for the Upcoming movie Sha Zam????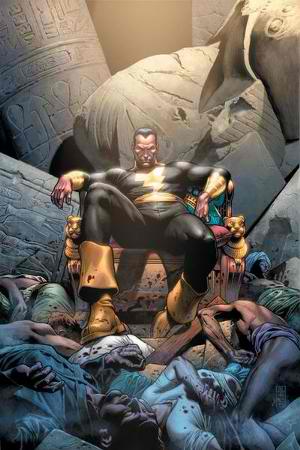 San Juan, Philippines
September 5, 2014 6:57am CST
We know a lot about Dwayne "the Rock" Johnson, but whose Black Adam anyway? Black Adam (Khem-Adam in his native tongue) is an antihero in the fictional DC Comics universe. He is a villain in the game DC Universe Online. Black Adam is a playable character in Injustice: Gods Among Us. He is classified as a Power User, and uses magical powers derived from the Gods of Ancient Egypt. Real Name: Teth-Adam Gender: Male Species Champion of Shazam/ Ancient Egyptian Demigod Height: 6' 3" Weight: 250 lbs (114 kg) Eyes: Brown Hair: Black Debut: Marvel Family #1 (December, 1945 The story of Black Adam begins in thirteenth century Egypt. Teth-Adam, a nobel and brave prince of the land of Kahndaq, was recruited by the wizard Shazam to be his champion of good. Endowned with the powers of six Egyptian gods, Teth-Adam became Egypt's greatest protector. But nothing lasts forever; when his wife and children were murdered by his enemies, Black Adam, blinded by rage and emboldened by his dead wife's words, would go on to murder nearly the entire neighboring country of Bialya. Adam feels justified in doing so because their government sheltered one of the conspirators that murdered his wife and countrymen, and because the people of Bialya embraced the evil religion of his enemies. Although an exact figure is never provided, it is implied that he murdered several million (including their pets and livestock), and many comics have portrayed the absolute devastation Adam wrought. After leaving a path of destruction around the globe to serve as a monument to his dead wife, it would take an army of approximately one hundred super powered heroes to stop Adam in what is known as "World War 3" in the DC universe. Power corrupts. It's a trial many heroes have had to face. But no one exemplifies this more than Black Adam—a champion turned villain whose quest for dominance over all magic drives him to destroy anything that stands in his path.
No responses