Do you need to use a leash when you walk your dog?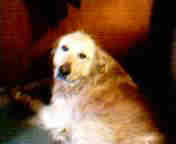 Canada
November 23, 2006 11:05am CST
When my dog takes a walk, he needs to be on a leash because he would just run away from me and make his own route wherever. I have had two dogs in the past that I could walk with no leash and they would stay right with me or come right away when I called. I find that not all animals train well. I used to think ALL dogs were smart but the golden retriever mixed breed I have now is all love and no brains. Can't teach him much. He knows the basic sit, roll over, but he refuses to learn to come when called. He just stands at a distance with a goofy kind of "Odie" look on his face, laughing at whoever calls him. He will come only for "breafezez" (breakfast). If I offer that to him at any time of day, he comes immediately, or sometimes for "supperz". He is almost four. My other dogs in the past were part collie and some other stuff, so maybe that had some of Lassie's genetic brains. They were almost always obedient, but my dog now is not. However as I said, he is full of love so we just do our best.
No responses