Car Show This Weekend

United States
July 23, 2015 9:30am CST
This weekend is the annual car show that hubby ALWAYS goes to. I always go, take pictures of cars and pictures of plants and flowers. I am good moral support. This year he will have both DWG and Amsoil to sell. Until we get moved, I will probably only be here a little bit, but I have not forgotten you guys at all. We will have to be out of this house by October 1. Imagine moving thirty years of living from five different family members and six different guests and some of us have had definite hoarding tendencies. Whew! I am looking forward to downsizing and reorganizing a bit, so just expect me when I show up, I suppose.
3 responses

• United States
23 Jul 15
It is still summer atleast so you can organize and start yard selling some of the stuff that you won't need. I look around this house and I can imagine. Nearly forty years of several different family member's stuff. It's ridiculously crowded in this house because of it.

• United States
24 Jul 15
You know exactly what I mean. I think #marsha32 and I will have a sale in August or September. She is in a bigger city than I am. Next week I move my sister and her stuff out, so that is good. It is a start.

• United States
29 Jul 15


• United States
29 Jul 15
@inertia4
The car show was tremendously hot, but we enjoyed the time there. My sister will move out July 31. Then I can get serious about my stuff.

• United States
30 Jul 15
@GardenGerty
Okay, thats cool. Only a few more days to go then. Things will be fine, I believe that.


• United States
24 Jul 15
I hope I get lots of pictures to add for your viewing enjoyment.

• United States
30 Jul 15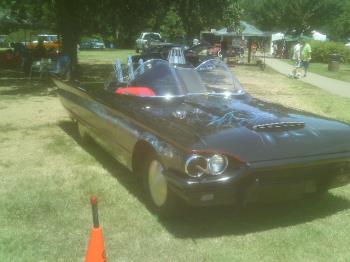 @xfahctor
Hubby really liked this "Batmobile" made from a 1964 Thunderbird that the guy bought from a junkyard.