Keep me accountable, Okay?

United States
August 5, 2015 10:50am CST
I walked for about a half hour today after the rain quit. If I keep reporting here, there is a written record. I used to adore walking and could do it for hours at a time. I was much healthier. The humidity was really picking up by the time I got back. I could hear the tree frogs and there was a young robin that flew down right in front of me. A blue jay was feeding at the local bird diner, and just looked at me when I passed. It is nice to be able to get out and see things for a change.
10 responses

• Regina, Saskatchewan
5 Aug 15
Hey Gerty, how are ya? Long time no see.... If it wasn't for my dog I doubt I'd get out as much as I do. I spend a lot of time in my garden, but lately I've needed the prodding of my dog to go walking. I have prairie land all around me, so the views are not all that inspiring, but walking does keep the middle age spread from spreading! lol

• United States
5 Aug 15
Are there prairie dogs there Sparks?

• United States
5 Aug 15
My spread has done spread. I may write a brief update about the last year or so.

• Holiday, Florida
5 Aug 15
Sparks, i know what you mean. it is mostly dull desert here even in town. Arizona


• United States
5 Aug 15
Walking frees my mind more than anything GG. I am so glad you got out and about. Too bad we are so far away now, or Id walk with you haha. Sometimes it is encouraging to have someone to walk with. Believe it or not, my son came out for a walk with me yesterday. It was so hot here, I had to have an umbrella, but it was well worth it to get out and about. There is nice scenery around here with the mountains too. You can always see them.

• United States
5 Aug 15
Coming back and talking about the walk is the next best thing, I think. I have friends out west there. Do you have prairie dogs where you live?

• United States
5 Aug 15
@GardenGerty
Yes I do, but not right here where the apts are, but right around the back yes there are some, but you dont mess with them of course becoz of the disease they carry.

• Hibbing, Minnesota
5 Aug 15
I really need to find someone to help hold me accountable too. Early this spring I took up walking and it was great, I self motivated and things were good, then I hurt my back helping a friend move and it hurt to do any kind of long distance walking so I stopped, and wouldn't you know it, now my back is better but i still cant seem to find the motivation I once had. Prior to my injury I was walking about two and a half miles a day and doing a pretty decent exercise regiment and I felt really good about it. Not sure why I cant get back into it now though. Go figure.



• San Marcos, Texas
6 Aug 15
I used to walk all the time but now after two broken ankles i limp and it gets harder to walk each year without the ankles stating to hurt..so i have to sit for a bit and then move on..when i was younger that is all i did..had no vehicle so it was either walk or stay home..those were the days!!

• United States
6 Aug 15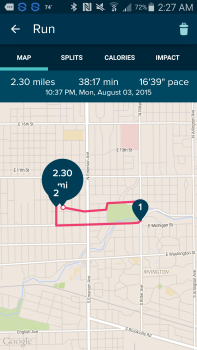 I walk and jog, too. Last year I bought a Fitbit Flex and LOVE it! It helps me keep track of my steps and can provide a lot of helpful information. I use the track my exercise feature and it gives me time walked, distance, pace and a map of my path. It's great and all that I have to do is push a couple buttons (and do the walking, of course).

• Portland, Oregon
6 Aug 15
I need to walk and bike! I am having a hard time implementing these activities into my routine. Maybe we could all use this thread too keep each other accountable on a weekly basis. Also, maybe we can challenge each other. I rode my bike yesterday for two miles, feeling it now. Planning on two more this week! How about you? What should be our rewards? We could reward ourselves with something when we keep up with what we plan and then deny it to ourselves if we don't. Alternatively or in addition to, we could even add more time to the following week when we fail to meet our goals! Some ideas, what do you think? It has helped me to have someone to talk with. Anything can be motivating when you have a party with you! Even if it's a party of one. :)

• Holiday, Florida
5 Aug 15
how wonderful. you make it sound so tempting. i sure need to try again to walk some